Strikes on Northern and South Western rail over guards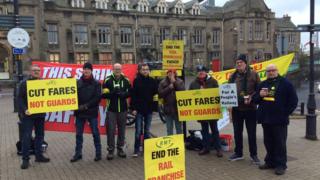 Workers from two rail companies are on strike again over the long-running dispute over the role of train guards.
Rail, Maritime and Transport union (RMT) members from Northern Rail and South Western Railway (SWR) stopped work at midnight.
SWR said around half of its Saturday services will run, while Northern Rail said 30% of trains would operate.
RMT said their attempt to "set up serious talks" on the issue of guards had been "snubbed" by the rail bosses.
SWR said it had organised rail replacement services and ticket acceptance on other bus and rail networks amid Saturday's industrial action.
It urged rugby fans to allow extra time for their journeys to reach Twickenham for England's match against Australia.
Northern Rail said it would be offering a reduced timetable with very few trains running before 9:00 and after 18:00 GMT.
RMT's general secretary Mick Cash said it was "frankly insulting to both passengers and staff" that the companies "have not even had the common courtesy to respond" to the union's most recent call for talks.
SWR said it had "repeatedly guaranteed to roster a train guard on every single service we run".
It added: "Our plans mean more guards, not fewer. It's time for the RMT union to commit to resolving their dispute which only causes misery for customers."
The RMT has been involved in a two-year dispute with several rail firms over the issue of guards.