Thousand-year-old bell from 6th-11th Centuries fails to sell at auction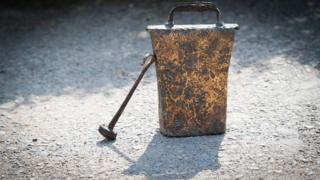 An ancient bell dug up on a farm in the 1920s and kept in a garage cupboard failed to sell at auction.
The bell, found in Gloucestershire. is thought to date from some time between the 6th and 11th Centuries and had a reserve price of £1,200.
The owner, from Stratford-upon-Avon, said: "No-one in my family wanted it."
Auctioneer James Brenchley said: "It was very close, but as it's such a special item we wanted to stick to the reserve."
He said it would be included in the unsold lots which would be auctioned later this week.
The owner, who wants to remain anonymous, said the bell had been dug up by her father while digging a hole to find drainpipes on a farm near Broadway.
She said in 1924, "a Scottish antiquarian expert" had dismissed one theory that it was a cowbell and said he believed it to be of Celtic origin.
The bell's owner said: "My parents inherited it and, from when I was a small child, I always remember it being on the dresser. Every now and then my mother would give it a polish with some Brasso.
"I inherited the bell and, to be honest, it's been kept in a box in the loft and in a cupboard in the garage."
After finding no-one in her family wanted it she took it to be valued and now hopes a collector or museum might like it.
Mr Brenchley, from Derbyshire-based auctioneers Hansons, said: "It's thought the bell was in a large building, possibly a monastery of the time. It's a wonderfully detailed work for the period."