Dorset detectorist's seal ring find sells for £10,000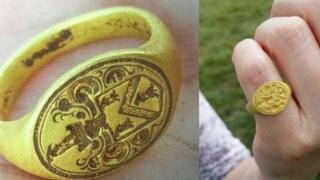 A centuries-old gold ring unearthed by an amateur metal detectorist has been sold at auction for £10,000.
Paul Wood, 64, a driving instructor from Poole, Dorset, uncovered the treasure while exploring land earmarked for housing near Witney, Oxfordshire.
The seal ring is thought to have belonged to a member of a notable local family and it dates to between the late 1500s and early 1700s.
Auctioneer James Brenchley said it was a "wonderful find".
Mr Wood, who has been metal detecting since the 1970s, found the ring at Bampton while searching with other members of the Metal Detectives Group in August 2016.
Following the discovery, he described it as the "find of a lifetime".
"I've found broken bits of ring before but never anything like this. It's in beautiful condition. There isn't a blemish on it."
The ring is engraved with an elaborate coat of arms feature with a chevron decorated with small dots between three birds' heads.
It is believed to represent the Skynner family who lived in the area from the 13th Century.
After going through the Portable Antiquities Scheme procedures and being examined by the British Museum, the ring was put up for auction at Hansons Auctioneers in Derbyshire.