'Why I don't want to host Christmas dinner'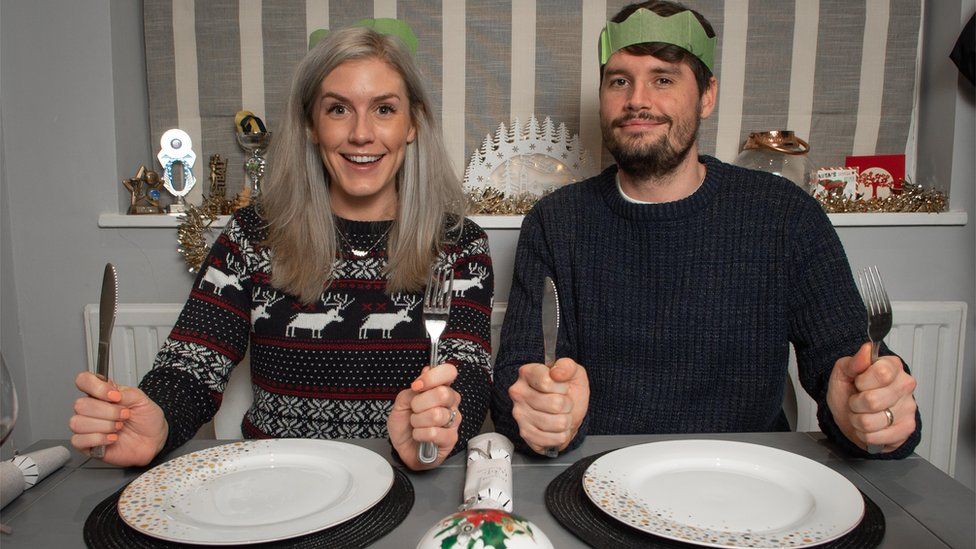 For some, it is probably the thing you look forward to the most about Christmas Day - the food. A turkey with all the trimmings, cooked to perfection and leaving you as stuffed as the bird you've just devoured.
But putting on a festive feast for all the family is no mean feat. Some might say it is a true test of being a proper grown-up.
So is it any wonder that many of us are dodging this responsibility, even in our 30s and 40s, and still going home to mum and dad's for our Christmas dinner?
Why are some people reluctant to step up to the plate and host?
Newlyweds Laura and Joe Hyland enjoy going to their respective parents' houses and "being treated like kids again". From opening big sacks of presents to tucking into a huge spread, they say part of the "magic" of Christmas is going back home and not having to worry about slaving over a hot stove.
"It is too stressful to host it here," says Laura, 30. "We don't want to. We don't even consider it. We just turn up and eat it.
"There are high expectations of the cooking. Everyone really looks forward to Christmas dinner so it has got to be good. I can't even make a roast dinner - I still go to mum for that on a Sunday."
"I get treated like a kid on Christmas Day," says Joe, 29. "I get presents, I get fed, we play games - the magic returns. Going home is nostalgic.
"It would be like a bit of our Christmas was being taken away if that changed.
"There are about 18 people around a big massive table when I go home. It would be carnage if we did that."
The couple, who live in Harborne, Birmingham, alternate where they go each year, to Laura's parents in Chester or Joe's family in Lichfield, Staffordshire.
But when will the time come for that to change? Both say they are not in a hurry to take on the burden of hosting and want to "delay being an adult".
"There is nothing stopping us [from hosting]," admits Joe, an accountant.
"Maybe it is a generational thing, a millennial thing. Maybe we are being selfish?
"I imagine when our parents were our age they had been making their own Christmas dinner for years."
"When we have children I think we will start hosting, but not before," says Laura.
"As we don't have kids yet I think there is an expectation for us to do the travelling too. I think it suits everyone. It suits us and our families."
Joe adds: "I don't get stressed on Christmas Day. I don't even get out of my pyjamas. But if I was hosting I would be stressed.
"I hope it does not make it worse. I look forward to Christmas. I don't want to have to stress about it."
'I am still the 'child' at Christmas'
Jessica Tickner goes back to her family home in Burton-upon-Trent, Staffordshire, for her Christmas feast.
But she does not just retreat there for her yuletide dinner, she spends the majority of her two-week Christmas break there.
"I am still the 'child' who goes home for Christmas," says the 31-year-old. "I love every minute of it. It is still the same. I am not ready for that to stop. I am quite happy to put it off for as long as possible.
"It is nice to not having to do anything and being looked after. I secretly think they [Mum and Dad] quite like looking after me, even at my age.
"I don't have to do any shopping for it or buy anything.
"I look forward to it and some home comforts."
One of the main reasons she says she does not want to host is the expense that comes with it. A turkey, sides, starters, puddings, festive nibbles, crackers and alcohol does not come cheap.
The English and drama teacher adds: "The cost is an issue. There is a lot of money involved and I can't afford it. Even for a small family it is expensive.
"If I did not feel like it would set me back too much then I would definitely do it. It would be nice to do it without worrying about the financial side of it."
She also questioned whether her culinary skills were up to the job of putting on dinner for a family-of-six, her partner, parents, brother and grandmother.
"There is the worry of ruining Christmas dinner. There is a lot of pressure on it being as good as Mum and Dad's and to get it right.
"Unless everyone was happy to wait for a long time on the day for me to do it, they might be disappointed.
"If everyone chipped in and brought a course, that would make it less stressful."
She thinks the role of Christmas Day head chef could be coming her way before long, though.
"I have got a feeling in the future I will be the host, but I think it would take a bit of practice.
"I don't think my Mum particularly enjoys hosting so I don't think it would cause any upset.
"I think they would like it if I offered. I know if I did though my dad would end up cooking anyway. They would take over.
"They would definitely give me a bit of stick and some jibes about the cooking, but it would just be in jest and a bit of banter."
Katy Hughes, an art and photography teacher, makes the two-hour journey from Birmingham to her family home in Higher Sutton, Macclesfield, every year.
"It is not questioned," she says. "There has never been a conversation about it - it is a given, the unspoken. We all go because that's what we've always done.
"I don't want to host Christmas."
Like many others her age, the 32-year-old does not want that tradition to change any time soon. She cites both practical reasons - not owning a big enough house - alongside the sentimental pull of happy childhood memories of being at home with the whole family for Christmas dinner.
"It is a Christmas tradition to go home," she says. "All the family will come together for Christmas Day. It is a bit of a treat.
"It is like a mini break, going home, being with the family. They live in the countryside. It is completely different from where I am living.
"It's a routine now and we kind of stick to that routine."
She is intimidated by the thought of hosting Christmas herself.
"I feel like it would be a real big pressure if they came here," she says.
"My Mum and Dad go to so much effort on the day. The food is really lovely. Sometimes they will do a test run of the courses.
"The pressure of living up to that is huge. I would feel like I would have to do just as good a job, if not better. The have definitely raised the bar."
Some might consider the more practical reasons, or excuses, a handy way of dodging the responsibility.
Katy, who lives in a two-bedroom terraced house, adds: "My house is too small. I don't even have enough room to fit everyone around my table.
"There is not enough room for them all to sleep here either so I would be conscious they would then have to drive two hours home. It probably would not be very stress free.
"If my circumstances were different, I would definitely like to [host] one day and I really like the idea of it when I have a big enough house and am at a different stage in my life. But at this moment in time, it is not practical.
"I don't think I could do it to the standard I would like to."