Gatwick drones pair 'no longer suspects'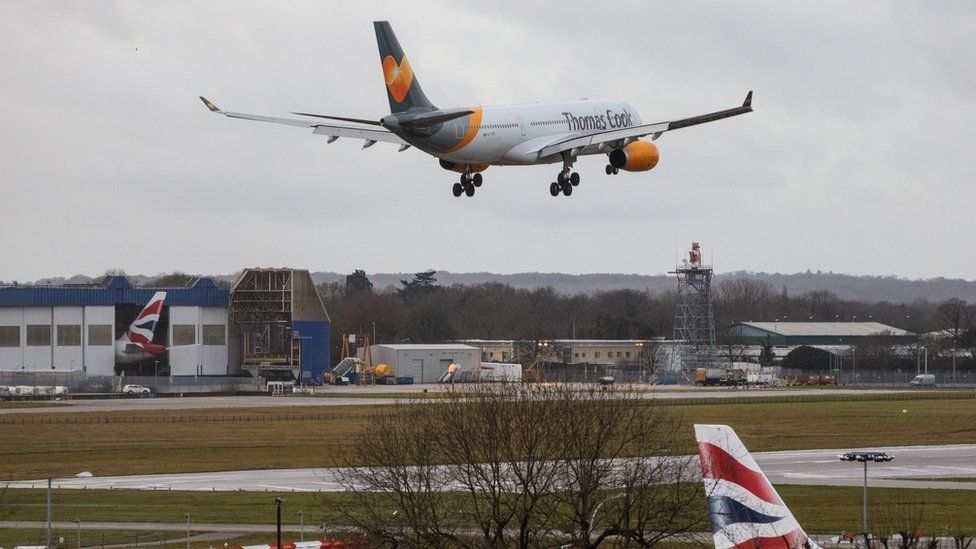 A man and woman arrested in connection with drone sightings that grounded flights at Gatwick Airport have been released without charge.
The 47-year-old man and 54-year-old woman, from Crawley, West Sussex, had been arrested on Friday night.
Sussex Police said there had been 67 reports of drone sightings - having earlier cast doubt on "genuine drone activity".
Det Ch Supt Jason Tingley said no footage of a drone had been obtained.
And he said there was "always a possibility" the reported sightings of drones were mistaken.
However, he later confirmed the reported sightings made by the public, police and airport staff from December 19 to 21 were being "actively investigated".
"We are interviewing those who have reported these sightings, are carrying out extensive house-to-house inquiries, and carrying out a forensic examination of a damaged drone found near the perimeter of the airport."
Det Ch Supt Tingley said it was "a working assumption" the device could be connected to their investigation, but officers were keeping "an open mind".
Flights were suspended for more than 36 hours when a device was first spotted close to the runway on Wednesday night.
Det Ch Supt Tingley said the arrested man and woman had "fully co-operated" with inquiries after information was received from a member of the public.
Talking about the disclosure of their personal details in the press, he said he was satisfied their arrest was lawful, and stressed that officers would never reveal such information.
He added: "We would not have chosen in any event to provide that information to anyone... and one might say that's probably hindered us in terms of how quickly we've been able to get to a resolution, in terms of them being released from custody."
Gatwick Airport Limited has now offered a £50,000 reward through Crimestoppers for information leading to the arrest and conviction of those responsible for disrupting flights.
About 1,000 aircraft were either cancelled or diverted, affecting about 140,000 passengers, during three days of disruption.
On Sunday the airport said it was operating as normal but there had been "some knock-on effect". Passengers have been urged to check with their airline for the latest information.
Authorities finally regained control over the airfield early on Friday after the Army deployed unidentified military technology.
It is believed that the Israeli-developed Drone Dome system, which can jam communications between the drone and its operator, was used.
However, experts have said it does not enable the person responsible to be tracked down and captured.
John Murray, professor of robotics and autonomous systems at the University of Hull, said it could only "take the drone out of the sky".
Related Internet Links
The BBC is not responsible for the content of external sites.