National Action trial: Accused's Swastika shawl was 'pagan' item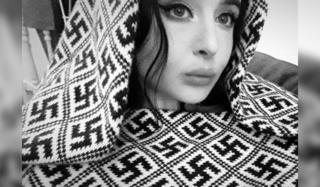 A woman accused of being a neo-Nazi terrorist has told a court her Swastika-covered shawl was a "pagan religious" item.
Alice Cutter also said earrings shaped like the symbol, which she described as "the best in the world" were bought from a "pagan" shop in Lithuania.
She is accused of being a member of National Action, along with her partner Mark Jones and two other men.
She said she "really didn't think" she was ever a member of the banned group.
Giving evidence for a second day at Birmingham Crown Court, the 22-year-old said the shawl had been given to her in Lithuania by a friend she was visiting.
Gun pose 'cool'
"I believe it's Latvian design but again it is pagan religious, I'm not wearing it to offend," she said.
"I like it because it's part of a religion I appreciate."
Asked about an image of her holding what appeared to be an assault rifle, she said she posed with it because it made a "cool pic".
She claimed the weapon was a replica, adding: "Much in the same way rappers pose with what can be perceived as a firearm, but I never thought this would be perceived to be a serious thing."
Under cross-examination, she admitted she had said "some heinous things" but did not have a "violent mindset".
Ms Cutter previously told the court that she only entered a "Miss Hitler" beauty pageant because she was pestered into it by her new friends.
She claimed she was left "panicking" when her entry photograph, in which her contest name was Buchenwald Princess - a reference to the infamous Nazi concentration camp - ended up in national newspapers.
She went on to describe messages she sent about killing Jews as "just stupid dark humour" made in private.
Ms Cutter and Mr Jones, of Mulhalls Mill, Sowerby Bridge, near Halifax, are on trial alongside Garry Jack, 23, of Heathland Avenue, Castle Bromwich, Birmingham, and Connor Scothern, 18, of Bagnall Avenue, Daybrook, Nottingham, who also deny being members of the group after it was banned in December 2016.
The trial continues.
Follow BBC Yorkshire on Facebook, Twitter and Instagram. Send your story ideas to yorkslincs.news@bbc.co.uk.