European elections 2019: Brexit Party wins two North East seats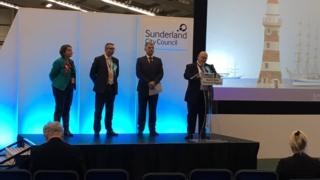 The Brexit Party has won two of the three seats in the North East constituency in the European elections.
Labour held on to one of its seats, but lost the other.
The two Brexit Party MEPs are John Tennant and Brian Monteith, who pledged in his victory speech to bring about a "clean break Brexit".
Labour MEP Judith Kirton-Darling retained her seat but blamed Labour's poor result on "people not knowing what we stand for".
The Brexit Party picked up 240,056 votes, almost 39% of the share and more than twice as many as Labour's 119,931.
The Lib Dems came third with 104,330 votes, and the Greens polled slightly higher than the Conservatives.
Analysis
By Richard Moss, BBC Look North political editor
From Berwick to Barnard Castle, the Brexit Party topped the polls in the North East.
It's the first time since the regional constituencies were introduced in 1999 that Labour hasn't finished first in the North East of England, although the party will be relieved it saw off a strong Liberal Democrat challenge to keep one of its two seats from 2014.
The Brexit Party's winning candidates believe the result shows people in the North East want to leave the EU without a deal, but in reality voters remain split.
Other parties reported frustration from voters that Brexit remained a live issue.
A resolution now still seems months away, meaning the North East's new Brexit Party MEPs will be heading to Brussels at the end of June.
For the Conservatives it was a predictably bruising night as they trailed in fifth behind the Green Party.
Newly-elected Brian Monteith said: "The people of the North East have delivered a truly historic result.
"They've shown how they, and so many others across Britain, are willing to leave behind their past loyalties to support the Brexit Party."
He said it did not bother voters that he lived in France and he was now in the process of moving back to the UK.
"There's nothing hypocritical in being a European but not believing in the EU," he said.
Labour MEP Judith Kirton-Darling said: "Labour has a good story to sell about what we've delivered in the European Union, but by not fighting this election with all our political might we've left the space for others.
"Tonight's result is not an endorsement of our Brexit policy, it's a final warning that things must change if we want to win a general election.
"If we don't let the public back in to decide what happens next, they will abandon us before we can deliver a government capable of bringing the transformative change that we need in this region and across the country."