Danielle Carr-Gomm: 'Slapping therapy' workshop death suspect faces charge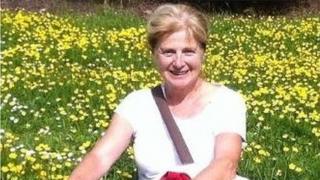 A man who ran a "slapping therapy" workshop faces a manslaughter charge over the death of a woman who attended.
Danielle Carr-Gomm, 71, of Lewes, East Sussex, died at Cleeve House in Seend, Wiltshire, on 20 October 2016.
A charge of gross negligence manslaughter against Hongchi Xiao, 56, who lives in California, has been authorised by prosecutors.
Mrs Carr-Gomm died after the week-long course involving paida lajin, in a bid to cure her diabetes, her son said.
Two other people arrested at the time of the incident have been released with no further action.
Matthew Carr-Gomm said his mother had been seeking alternative treatments since 1999, when she was first diagnosed with diabetes.
"She had a lifelong fear of needles so she struggled with the diagnosis and initially took a course of tablets instead," he said at the time.
"I know she was desperate to try and cure herself of this disease. She always maintained a healthy lifestyle and was adamant that nothing would stop her from living a full life."
The manslaughter charge against Mr Xiao has been authorised by the Crown Prosecution Service (CPS).
A warrant for his arrest was issued at Salisbury Magistrates' Court on 4 October.
"Wiltshire Police will be working with the relevant agencies to ensure Mr Xiao will stand trial," a force spokesman said.