Midlands flooding: People rescued by boat in Hereford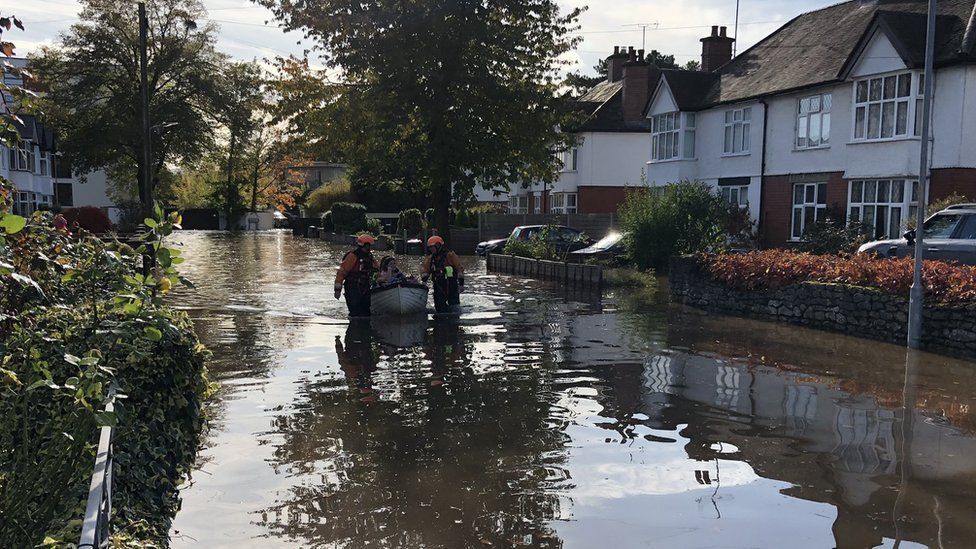 People have been rescued from their homes by boat after parts of the Midlands were flooded.
In Hereford at least 20 homes were flooded and residents at a care home had to be rescued.
The Environment Agency said in one part of the city - Greyfriars - "the only way in or out" was by boat.
Dozens of roads in Shropshire, Herefordshire, Staffordshire, Warwickshire and Worcestershire have also been shut because of flooding.
In Stafford parts of the town centre were shut off because of flooding.
The line between Hereford and Newport remains shut because of it.
The River Wye in Hereford is at its highest since October 1998.
Hereford and Worcester Fire Service said they expected the number of flooded homes in Hereford to increase with the worst-affected areas being Grefriars and Holme Lacey Road.
Firefighters rescued several residents at the Manor Rest Home in the Lower Bullingham area.
In Hagley, Worcestershire, residents were cleaning up on Sunday after heavy rain was thought to have caused a culvert and drains to overflow and flood homes.
Some people said they felt "let down" by the authorities, including Sue Milward, who said she reported a blocked drain to Bromsgrove District Council three months ago, but had "heard nothing" since.
Councillor Karen May said there would be a full review of drainage in the area.
Homes in the village of Kentchurch, Herefordshire, were also flooded.
William Chambers, landlord of the Bridge Inn, said floodwater in the kitchen was "knee high" on Sunday.
He said staff were pumping water out of the pub and trying to save as much food as possible.
Flood barriers installed about 10 years ago on the Wye are protecting some 160 properties in Hereford, the Environment Agency said.
Officials said without them, water would now be "chest deep".
Homes in the nearby village of Hampton Bishop have also been flooded, along with properties in Hagley, in Worcestershire, and Clun in Shropshire.
Several rail routes out of Shrewsbury were blocked on Sunday morning but have since reopened.
At Pontrilas Network Rail engineers have assessed the damage, but said it was unclear how long it would take to fix.
Hereford and Worcester Fire Service said people were rescued from more than 40 vehicles stranded in floodwater on Saturday.
Some drivers were also rescued on Sunday across Herefordshire and Worcestershire, including Fladbury, near Pershore.
At its peak there were 51 flood warnings in force across Warwickshire, Staffordshire, Shropshire, Herefordshire and Worcestershire, on Sunday morning, although that number has since dropped.
At Pershore College, near Worcester, 50mm of rain fell over a 30-hour period.
Flood defences are in place in Bewdley, Hereford, Upton-upon-Severn and Shrewsbury, with temporary barriers being put up in Ironbridge.
Dave Throup, from the Environment Agency, said levels on the River Teme were at their highest "since the huge flood of summer 2007".
In South Staffordshire, the depth of floodwater reached almost 4ft at a ford in Trescott and Staffordshire Fire and Rescue Services said it had attended a number of calls to people trapped near a garage in Sandon Road, Stafford.
No further rain is forecast for the West Midlands over the next few days and Mr Throup said river levels were expected to fall quickly once they had peaked on Sunday.
Related Internet Links
The BBC is not responsible for the content of external sites.