Flood warnings span England stretch of the River Severn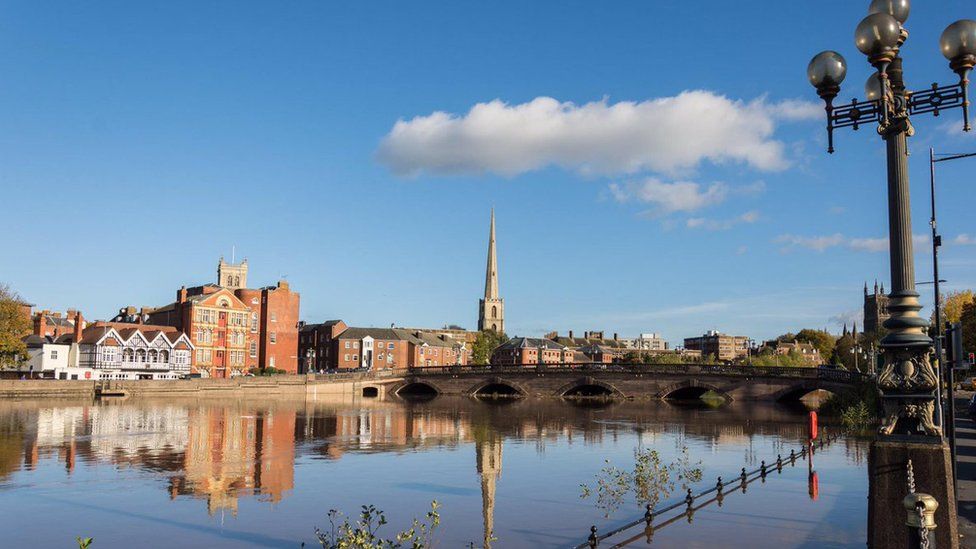 The entire English stretch of the River Severn has been covered by flood warnings as water levels continue to rise following recent downpours.
The Environment Agency said it was "very unusual" for warnings to cover such a long stretch of the river.
The warnings affect Shropshire, Worcestershire and Gloucestershire.
A flood gate on a main commuter route in Worcester, Hylton Road, was closed for the first time since 2014, meaning the street has been shut.
Road closures were in place in the region following nearly a month's worth of rain in little over 24 hours.
River levels peaked in parts of Shropshire, including Ironbridge and Buildwas, overnight but are expected to stay high for a few days.
Other areas including Worcester are projected to peak on Tuesday night. River levels are expected to remain high in the city and downstream for the next two to three days.
The Environment Agency said more than 1,000 homes and businesses had been protected by the Severn flood barriers.
Donna Byard runs an antique shop in Ironbridge and had to turn away customers on Monday due to the rising waters.
"We've not had it this high for many years," she said, adding it was the first time she had been forced to use her flood barrier which she noticed "breaching underneath slightly".
In a caravan park in Bridgnorth, Maureen Burnell told the BBC her home was suddenly surrounded by water.
She said there had been no sign of flooding at about 21:00 GMT on Monday but a few hours later "and suddenly this water is rushing like mad past our window".
The Environment Agency's Chris Bainger said holidaymakers enjoying their half-term break were a particular concern as they were unlikely to have a flood plan.
"That's caught some people out," he said, adding that people letting holiday accommodation should consider leaving tourists information for what to do.
Related Internet Links
The BBC is not responsible for the content of external sites.