England flooding: Almost 50 warnings in place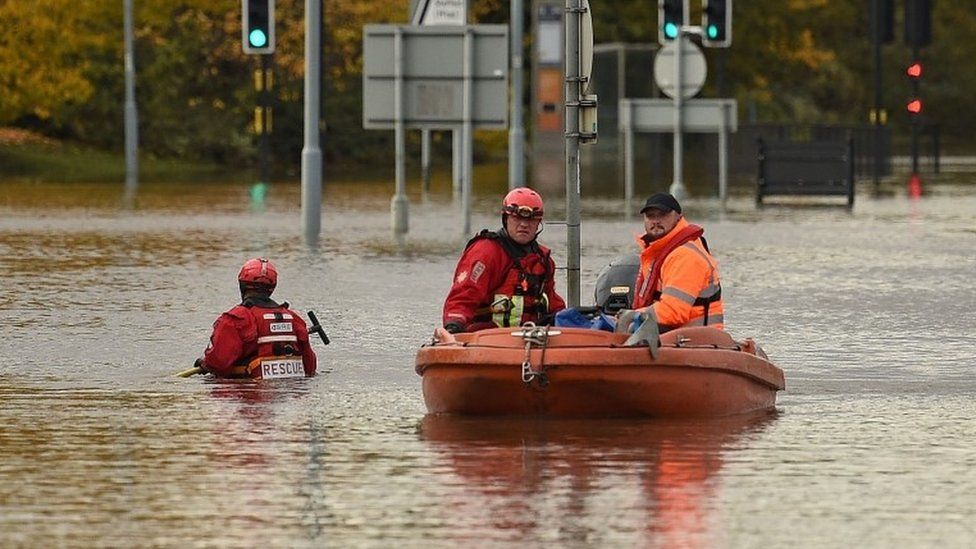 Almost 50 flood warnings are in place across England after days of persistent rain.
Five severe warnings - deemed a threat to life - remain on South Yorkshire's River Don, with flooding in that area likely to continue until Wednesday.
Towns and cities across Yorkshire and the Midlands have faced disruption and in some cases emergency evacuations.
It said water levels were still very high on stretches of the River Don and expected flooding in that area until midweek.
A military helicopter would be used on Sunday evening to drop sandbags at Bentley Ings by the river.
On Sunday, Prime Minister Boris Johnson, who visited flood-hit Derbyshire on Friday, said he was "in awe of the community's spirit and resilience in the face of this awful ongoing event".
He said he was receiving regular briefings on the situation and added the government's emergency Bellwin scheme had been activated to reimburse eligible councils for certain costs they incur.
Doncaster Council reiterated its call to evacuate Fishlake and has set up a rest centre in nearby Stainforth "for as long as is needed".
According to the Salvation Army, some people had been rescued from their homes by boat since the early hours of Saturday morning but others remained in their properties.
Damian Allen, chief executive of Doncaster Council, said: "We are concerned over reports that some residents remain in the Fishlake area.
"South Yorkshire Fire and Rescue crews are on hand to evacuate any Fishlake residents who may be stuck in their homes, and we would urge everybody to take advantage of this.
"The council are unable to offer on-the-ground support to residents who are in severe flood warning areas, based on advice from the Environment Agency."
The authority said it expected it would be "at least 48 hours until you can return to your homes, if not longer" and was told by the Environment Agency that flood waters in the village would "not start to go down for at least the next 24 hours".
⚠️URGENT Fishlake residents have been advised to evacuate, if you are still in Fishlake call 01302 735688 so we can organise evacuation immediately by South Yorks Fire and Rescue. We can only offer dedicated support to people who are not in an area where there is a threat to life

— Doncaster Council (@MyDoncaster) November 10, 2019
Helen Batt, from the agency, said 4,000 properties had been protected by flood defences in the village, but added 300 had been flooded, with more than 1,200 evacuated.
BBC reporter Richard Cadey said some roads around Fishlake had been closed and the village was "effectively cut off because of flooding".
Many parts of the area remain under 3ft (1m) of water and only tractors are able to get in by some roads.
He said people on the ground had told him 90% of the homes there had been flooded.
Pam Webb, who owns a spa in Fishlake, said: "We've got blue skies, it looks picturesque until you actually get in to the village and you see the devastation that's been caused to homes and businesses.
"Devastating is an easy word to use but it's completely devastating and it's heartbreaking."
By Richard Cadey, BBC Radio Sheffield reporter
Trying to get to Fishlake seemed like an impossible task. The village has suffered severe flooding and I was constantly met by road and bridge closures.
In nearby Stainforth people had collected food in the local pub and taken it to those stranded in Fishlake by tractor. But now even this has become impractical.
Richard Pashley's family farm in neighbouring South Bramwith dates to 1910.
The 63-year-old told me he had never seen flooding as bad as this in his lifetime. He put it down to a number of different factors, including torrential rainfall and the lack of dredging on the River Don.
This was a recurring concern from a number of residents and they all echoed Mr Pashley's call for dredging to begin again on this section of the river.
The fields surrounding these villages were like lakes and Mr Pashley's field of potatoes was submerged by up to five feet of water, just two weeks before he was due to harvest them.
Some train routes between Doncaster and Sheffield were closed and Northern Rail has warned commuters they are likely to remain shut until further notice.
In Mansfield, Nottinghamshire, 12 properties remained evacuated after a landslide at an old quarry site saw debris and soil fall onto Band End Close.
Bassetlaw District Council said it was being removed and "temporary safety measures" had been put in place.
Natalie and Jonathan Palmer were evacuated from their home in Mansfield, along with their children, and are staying in a hotel.
They said they had been told they would not be able to return to their property for at least a fortnight, adding they were "disgusted and angry" at the prospect.
In Newark, people living in mobile homes were evacuated on Saturday evening as river levels peaked in the town.
"Major incidents" were declared on Friday in Worksop after the River Ryton burst its banks and in South Yorkshire as a result of wide-spread flooding.
Parts of Worksop were without power on Saturday.
Firefighters evacuated 25 homes, and a community information point has been set up for those affected by the floods.
In Derby city centre, officials considered a city-wide evacuation as authorities saw the River Derwent swell to record levels of 3.35m (11ft).
Communities around Matlock, Derbyshire, where flood victim Annie Hall was swept away, are cleaning up after the flooding.
Rowsley Church of England Primary School is trying to raise £5,000 after its classrooms were heavily damaged.
Governor Marianne Quick said: "The school will remain closed until it has been expertly assessed but the likelihood of our children getting back into their much loved classrooms anytime soon is unlikely."
Resident Sarah Sutcliffe said: "Parents, teachers and especially the children are all distraught about the damage which has been caused."
One of the most severely hit areas has been Bentley in Doncaster, where flooding affected many homes 12 years ago.
One resident told BBC Radio Sheffield: "The worry is our insurance policies are expensive as it is because of the 2007 floods, so now we're all worried whether we're going to get reinsured."
Some residents were "angry and frustrated" at Doncaster Council - claiming it had not provided sandbags early enough to prevent properties from flooding, the station reported.
Homes in Stainforth, Thorpe in Balne and Trumfleet have also been evacuated.
South Yorkshire Police said it had extra officers out on patrol to "protect the evacuated areas and support those affected by the floods".
"There is no suggestion of any criminality resulting from the floods but we hope our extra patrols can offer at least a little reassurance to those worst affected."
Please include a contact number if you are willing to speak to a BBC journalist. You can also contact us in the following ways:
Related Internet Links
The BBC is not responsible for the content of external sites.