Gemma Watts: Sex attacks woman posed as teenage boy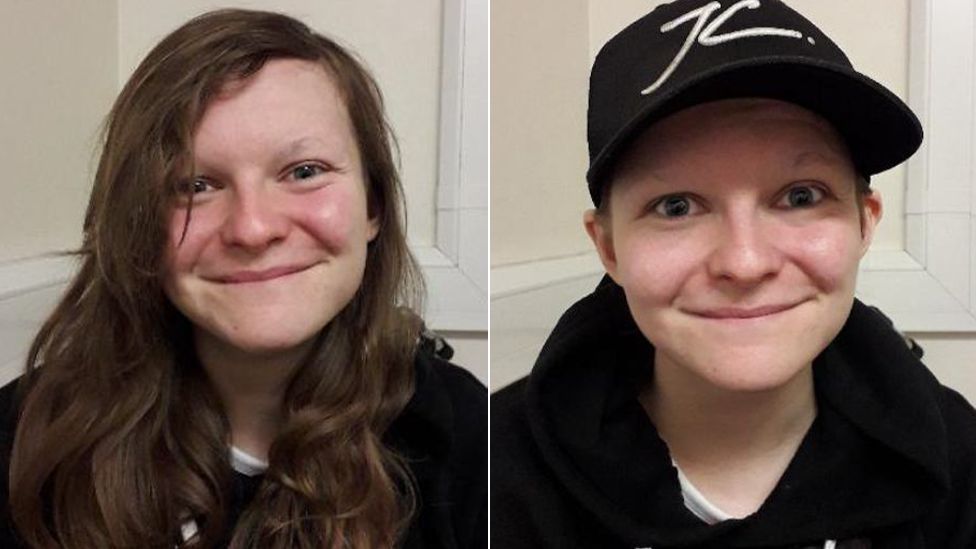 A woman disguised herself as a teenage boy to sexually assault girls after grooming them online.
Gemma Watts posed as 16-year-old "Jake Waton" on social media and swapped intimate photos with victims before meeting at locations across England.
Watts, 21, of Enfield, pleaded guilty at Winchester Crown Court to sexual offences involving four girls and was jailed for eight years.
Police believe she may have assaulted up to 50 victims in total.
Scotland Yard said Watts had used her own picture on Snapchat and Instagram accounts as "Jake" and targeted girls aged 13 to 16 by liking their profiles.
She used teenage slang, sent flattering messages and shared intimate photographs before travelling to meet them in person.
Her disguise included tying her hair back in a bun and wearing a baseball cap, jogging bottoms and a hoodie.
Police said all of her victims believed they were in a relationship with a teenage boy until officers revealed Watts was actually an adult woman.
She was so convincing she even spent time as "Jake" with some of the girls' parents.
The court heard two of the victims had since made several suicide attempts because of their experiences.
One 14-year-old girl said her "heart exploded" when she learned the truth about Watts from the police.
In a victim statement read out in court, she said: "My world stopped, I actually stopped breathing... I loved him so much."
The offences she has admitted relate to a 13-year-old from Plymouth, two 14-year-olds from Surrey and Hampshire and a 16-year-old from the West Midlands.
Barnaby Shaw, prosecuting, said Watts repeatedly groped one of the victims during regular overnight stays over a three-month period.
On one occasion, he said the girl believed she was touching Watts' genitals but was deceived by "what must have been a number of socks tightly rolled together".
Passing sentence, Judge Susan Evans QC said Watts had groomed young girls for her own gratification.
"Their youth, as you plainly knew, made them more naive and made you more likely to get away with your deception," she told Watts.
Det Con Phillipa Kenwright said the victims "all believed they were in a relationship with a male" and had been "completely taken in" by Watts.
She added: "It's been life-changing for all of the victims involved."
The officer said she believed Watts could have duped "20 to 50" victims in total.
A doctor in Hampshire first raised concerns to police in March 2018 after a young patient revealed she was in a relationship with an older boy.
In July that year Watts admitted to Met officers she had been sexually active as "Jake" with the first three victims.
She was released under investigation and arrested again in October 2018 by British Transport Police who found her on a train with a fourth victim.
Officers initially thought Watts was a 16-year-old boy and were taking her home to London before they realised her true identity.
In November 2019, Watts pleaded guilty to one count of assault by penetration, three counts of meeting a child following sexual grooming and three counts of sexual assault.
Det Ch Insp Nicholas Plummer, from Hampshire Constabulary, said: "This is a truly shocking case. It serves as a reminder to us all about the lengths a perpetrator will go to exploit children.
"Parents and carers should have the confidence to speak to their children about their online activity."
Related Internet Links
The BBC is not responsible for the content of external sites.