Canary Islands sandstorm: Stranded tourists 'devastated'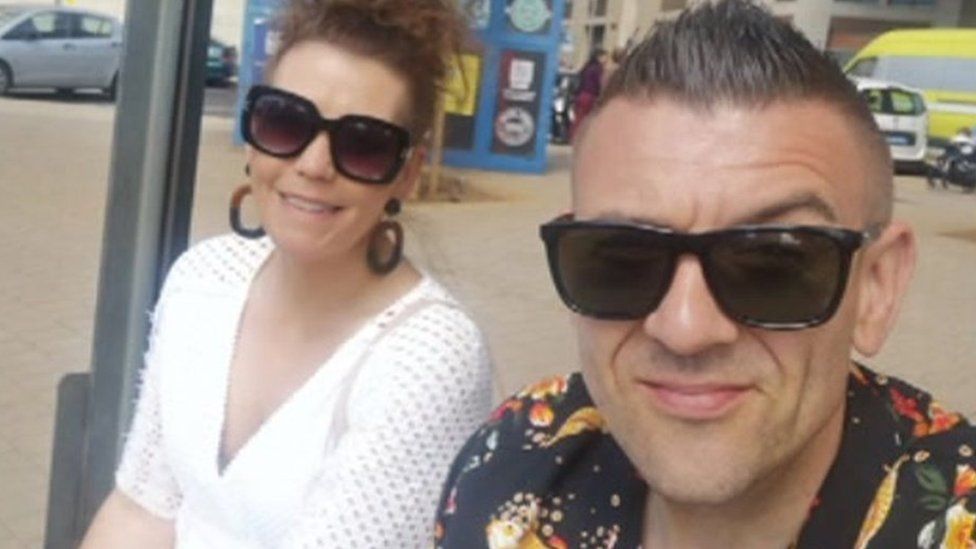 Tourists stranded in the Canary Islands following a Saharan sandstorm say they have been left "devastated".
The Spanish archipelago's airports reopened on Monday after being closed over the weekend, but many flights have been cancelled or delayed.
Graeme Wharton, of Sunderland, said his family have been stuck at Gran Canaria airport with "zero information" from tour operator TUI.
The firm said it was "working tirelessly" to get people home.
Mr Wharton, who had been due to fly to Manchester, said his family had been at the airport since early on Monday having also spent more than 10 hours there on both Saturday and Sunday.
They have had no access to their checked-in luggage and have been "wearing the same clothes" for days, he added.
"TUI brought us to the airport at 10am yesterday and we've been here ever since with zero information.
"You've got kids lying about on cardboard asleep, there's people in wheelchairs and pensioners who need medication.
"We're devastated. It's the lack of information from TUI. There's no information with regards a flight to take us home and when it will be here."
The holiday firm has apologised to customers and said it was "working tirelessly to get everyone to their destination as quickly as possible".
Amanda Leashman, whose parents and sons are stranded at the airport, said they were ringing her back in the UK to access information, as they were not being told what was happening.
The family, from Wakefield, who were returning from a cruise to mark her father's 70th birthday, were forced to sleep at the airport on Monday night.
Mrs Leashman said: "Dad is diabetic and is running out of medication.
"There were no blankets or pillows and they didn't have their cases or anything as they'd gone through security.
"They got a food vouchers, but most of the outlets had run out."
She said they had been told there would be a plane at 14:30 but it developed a technical fault, and a replacement would not be due until the the small hours.
Other stranded Britons include a Bedfordshire swimming team who have been waiting to return via EasyJet from Lanzarote since Saturday.
Thirty-four children aged 12 to 17 from the Flitwick Dolphin Swimming Club, along with four adult volunteers, went on a training camp to the island on 17 February.
They are being put up in a hotel and are due to fly back to the UK between Thursday and Saturday.
A club spokeswoman said it had been "stressful" and the organisation was "working round the clock" to deal with the situation.
Related Internet Links
The BBC is not responsible for the content of external sites.