Coronavirus lockdown sees air pollution plummet across UK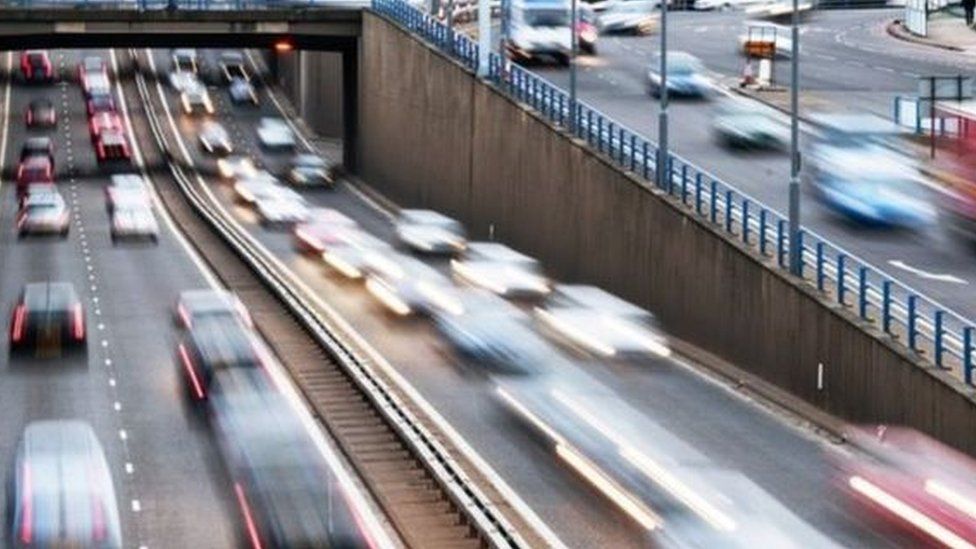 Air pollution levels in the UK have dropped significantly in the two weeks since the country went into lockdown to stop the spread of coronavirus.
Some cities have seen nitrogen dioxide (NO2) levels fall by up to 60% on the same period last year, analysis shows.
NO2, released from car exhausts, is a serious air pollutant and also indirectly contributes to the warming of the planet.
Campaigners said they hoped it would lead to a permanent change.
Jenny Bates, a Friends of the Earth clean air campaigner, said: "Seeing this drop in air pollution shows that less traffic can quickly lead to cleaner air.
"Once this dreadful situation is over, we don't want to rush to go back to where we were or worse, and we can't have an accelerated return to business as usual.
"We can have a better, cleaner future for ourselves and the planet."
A week later, Mr Johnson announced a nationwide lockdown in a bid to stop the spread of the virus.
Daily readings from air quality monitoring stations since 17 March were compared to the same period last year, accounting for weekdays.
Analysis by the BBC Shared Data Unit found an even starker drop in air pollution since the lockdown was announced on 23 March compared to the same period last year - halving at some of the most polluted sites, including readings in London, Glasgow, Bristol and Oxford.
The A472 in Hafodyrynys in Caerphilly county, Wales, is known for having some of the highest levels of nitrogen dioxide outside of central London.
William Bloss, a professor of atmospheric science at the University of Birmingham, said: "What we're seeing in the lockdown... is the reductions in road traffic in our cities translating into much lower levels of NO2.
"We're seeing the reductions are greatest in areas most heavily-influenced by road traffic, so city centres, roads in London, Birmingham and other urban centres."
A roadside station in Chatham, Kent, has seen its pollution readings halve since the same two-week period last year.
Ecologist Simon Curry, who also sits on Medway Council, said: "I'm doing my once-a-day exercise and there's a lot more birdsong that's audible, which is a nice thing to hear."
He said when the lockdown ends people should be asking themselves "if it's essential for us to drive or if we could walk instead".
"But there's a definite downside to this data," he added. "There are a lot of businesses that are not going to make it through this."
A Defra spokesperson said: "As we all make changes to our lives and stay at home to protect the NHS and save lives, it's important that we also understand how these changes will affect air quality and its impact on public health in the UK.
"That is why, while early signs show air pollution has dropped during this unprecedented time, we have launched a call for evidence to ensure we can fully understand the impact that coronavirus is having on air quality."
Charts by Daniel Wainwright, additional reporting by Emily Unia
The Shared Data Unit makes data journalism available to news organisations across the media industry, as part of a partnership between the BBC and the News Media Association.
Related Internet Links
The BBC is not responsible for the content of external sites.