Kent County Council has 'no capacity for more child migrants'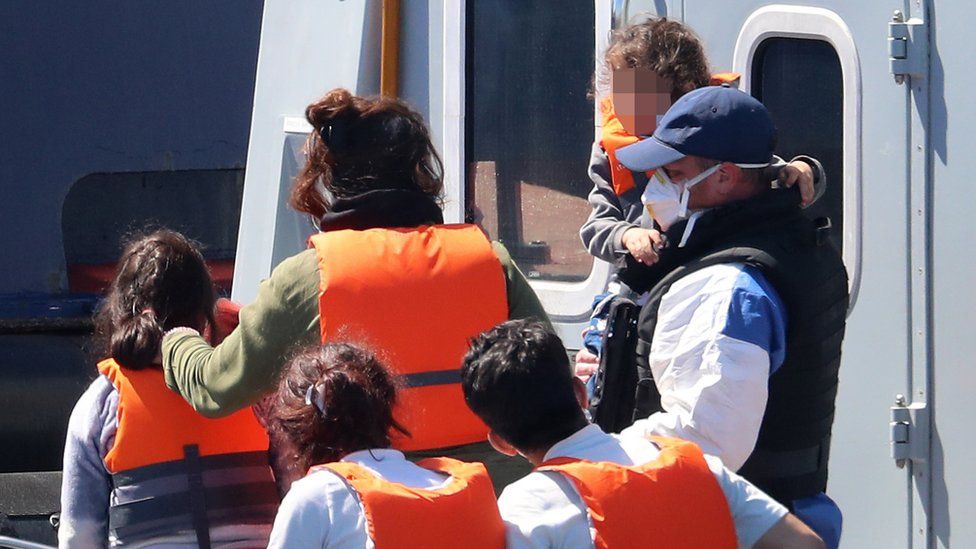 A council says it cannot safely care for any more child migrants amid a rise in the number arriving alone in Kent.
Kent County Council said it does not have the capacity for additional unaccompanied asylum-seeking children.
More than 400 children, most of whom arriving in Dover across the English Channel by small boat, have entered the authority's care so far this year.
Responsibility lies across England, the council says, while the government says the authority has had extra support.
Under-18s arriving in the county alone are passed into the care of the local authority, with a small number later transferred to other councils that volunteer to help.
County council leader Roger Gough said he warned the Home Office his authority "expected to reach safe capacity to meet its statutory duty of care this weekend".
The arrival of 13 more children in the past two days had "tipped the balance and the council simply cannot safely accommodate any more new arrivals," he added.
It is unclear what will happen should more children arrive in the coming days.
"That is clearly unacceptable and needs to be resolved immediately," said Bridget Chapman, of Kent Refugee Action Network, which supports unaccompanied asylum-seeking children and refugees.
"Our main priority is to ensure that vulnerable children are properly cared for and we urge the government to urgently work with Kent County Council to find a way forward," she added.
In May, the government increased the amount given to councils to care for asylum-seeking children after Mr Gough warned social services in Kent were at risk of being overwhelmed.
"This is an unprecedented situation and we have been working incredibly closely with Kent County Council to urgently address their concerns," the Home Office said.
"We continue to provide Kent County Council with a high level of support, such as significantly increasing funding and reducing pressure on their services through a national transfer scheme.
"We are also providing extra support with children's services and we continue to work across the local government network on their provision for unaccompanied minors."
But Sue Chandler, cabinet member for children's services, said the voluntary national transfer scheme needed to be made mandatory.
While some children had been moved to other areas in recent months, "due to the continued high level of arrivals, it has not been enough to make a real difference to the numbers in Kent," she said.
Mr Gough has said the reduced amount of freight crossing the Channel due to coronavirus has led to an increase in the number of asylum-seeking children arriving in Kent by boat.
More than 4,800 people have crossed the English Channel in small boats this year.
Related Internet Links
The BBC is not responsible for the content of external sites.