Baby names: Dua Lipa and Kylo Ren inspire parents' choices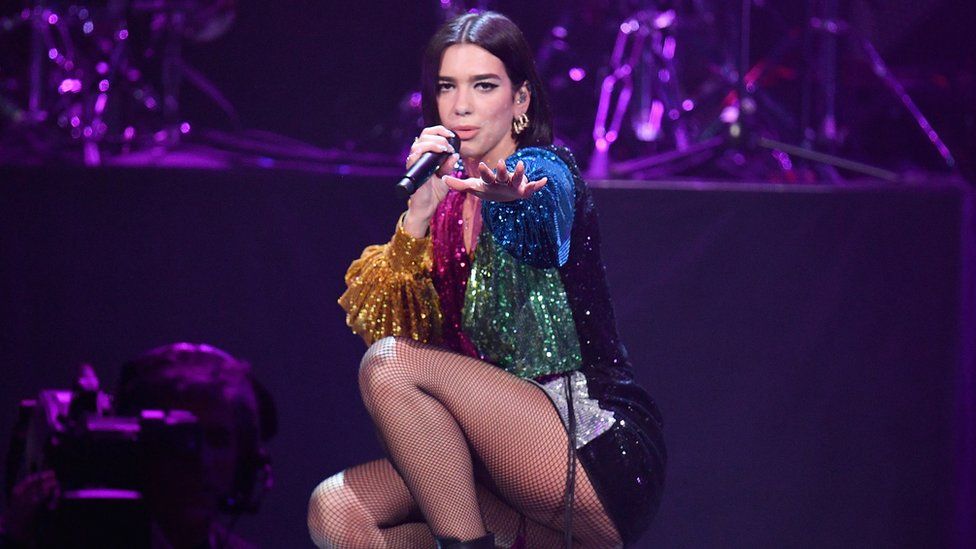 Dua Lipa and Star Wars' Kylo Ren were among the biggest influences on parents' choices for their baby names, according to the latest data.
The Office for National Statistics (ONS) said babies called Dua doubled in 2019 compared with 2017, when the singer had her first UK number one.
Kylo's popularity has risen since the new Star Wars films started in 2015.
But Oliver and Olivia are still number one in England and Wales, with more than 9,000 babies named in 2019.
The ONS said 126 babies were called Dua in 2019, compared with 63 in 2017, suggesting that like her first UK number one single the singer has set New Rules for naming inspiration.
The name Kylo appears to have increased in popularity since the first appearance of Kylo Ren in 2015. Since then, the number of boys named Kylo has risen from 10 to 67 in 2019.
Meanwhile Alexa has fallen since the introduction of Amazon's Echo, down from 332 in 2016 to just 39 in 2019.
Although they were the most popular names, Olivia and Oliver are declining. There were 4,082 Olivias last year, compared with 4,598 the year before.
Oliver, which has been the number one boys' name since 2013, fell from 5,390 to 4,392.
David Corps, from the ONS, said: "Oliver and Olivia continued their reign as the top boys' and girls' names in 2019, but analysis shows choices in baby names can differ depending on the mother's age.
"We found younger mothers opted for more modern girls' names like Harper, which has seen a rise since the Beckhams named their daughter so in 2011, and shortened boys' names like Freddie. In contrast, older mothers chose more traditional names such as Jack and Charlotte."
Sarah Redshaw, editor of parenting website BabyCentre UK said she was not surprised to see Oliver and Olivia taking the top spot once again, as they were "really well loved and popular names" as well as "strong and traditional".
"It isn't unusual to see little change in the top 10, I think the new trends you see happen further down the list," she said, adding it was "great to see more unusual names" in the top 100 brought about by popular culture and sporting events such as the Women's World Cup.
Looking ahead, Ms Redshaw said the top spots were unlikely to change drastically for a few years, with parents opting for the "steadiness" of the top 10 amid "turbulent" times. However, she added parents were likely to be "a lot more adventurous" with middle names, and a list of these could look quite different to the most popular forenames.
"Parents feel a lot of pressure to name their baby, but if you are uncertain you have more than 40 days to decide," she said.
Although Jack was still the eighth most popular boys' name, it has declined significantly since its heyday in 1996, when more than 10,000 babies were given the name.
Among girls, Ruby has been declining since 2007, when it was the most popular name, to 27th in 2019.
Lauren is also in steady decline among girls, down from the fifth most popular in 1996 to 453rd in 2019.
Did anyone name their daughter Stacy?
The ONS said it looked as though the name Matthew may soon fall out of the top 100 for the first time since 1954 after 633 boys were given the name.
However, some may be on the verge of extinction.
The ONS only provides figures when there were at least three babies given the same spelling of a name. It does not reveal names taken by only one or two babies, in order to protect their privacy.
The data does not reveal any entries this year for once-popular names like Stacy. There were dozens of babies with the name in the mid-1990s, but only four in 2018.
Nichola, which was the 83rd most popular name for girls in 1974, has not appeared in the list since 2010 when there were seven babies given the name.
Is Muhammad more popular than Oliver?
The ONS said many commentators had concluded if various spellings of a name, such as Mohammed, were added together it would be the most popular name for boys in England and Wales.
However, the ONS does not do this because it would have to do the same for all other names, for example combining the different versions of Oliver, such as Ollie, Oli, Oliwer and Olly.
Muhammad was the most popular boys' name in the North West, Yorkshire and The Humber, the West Midlands and London.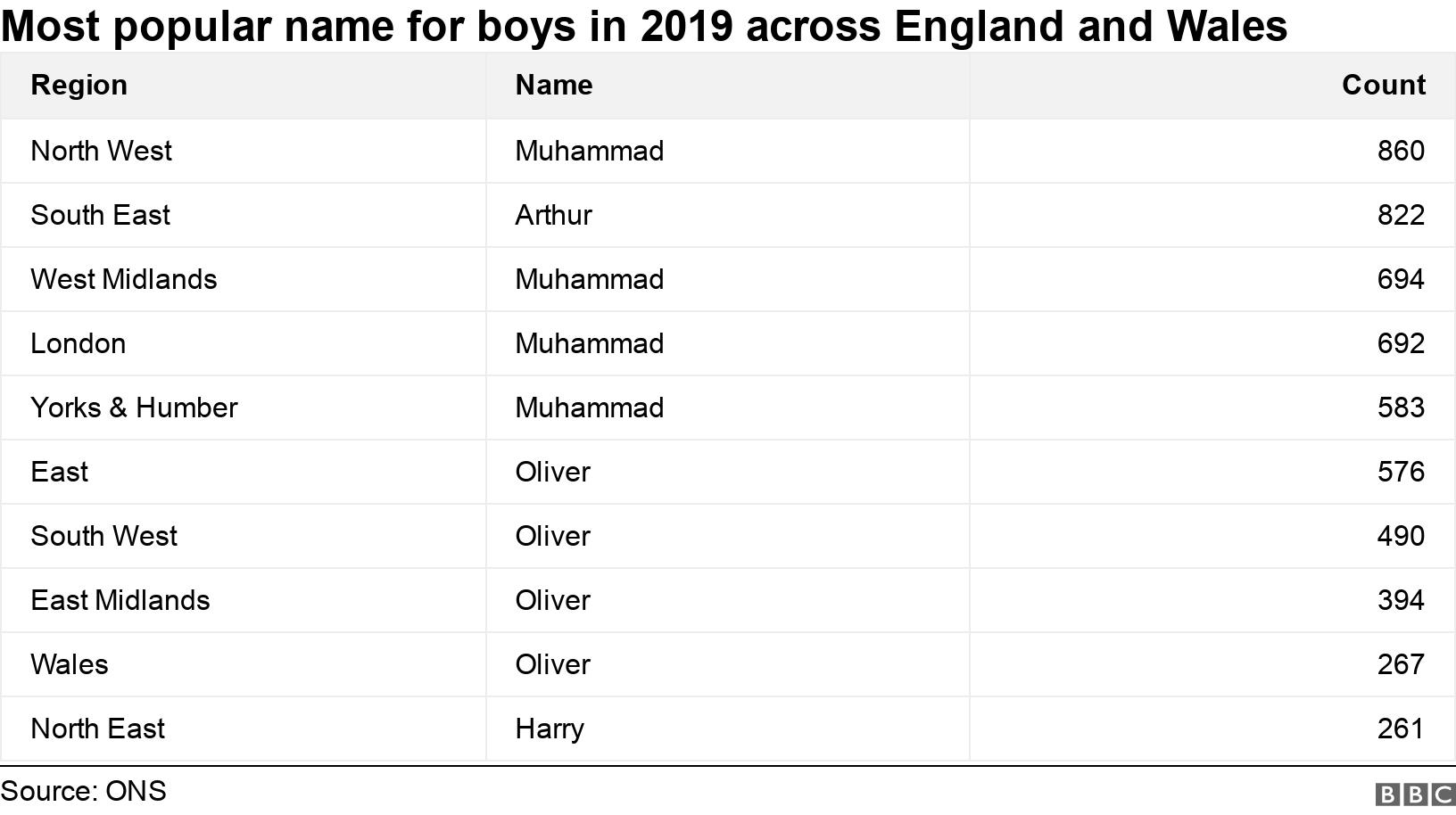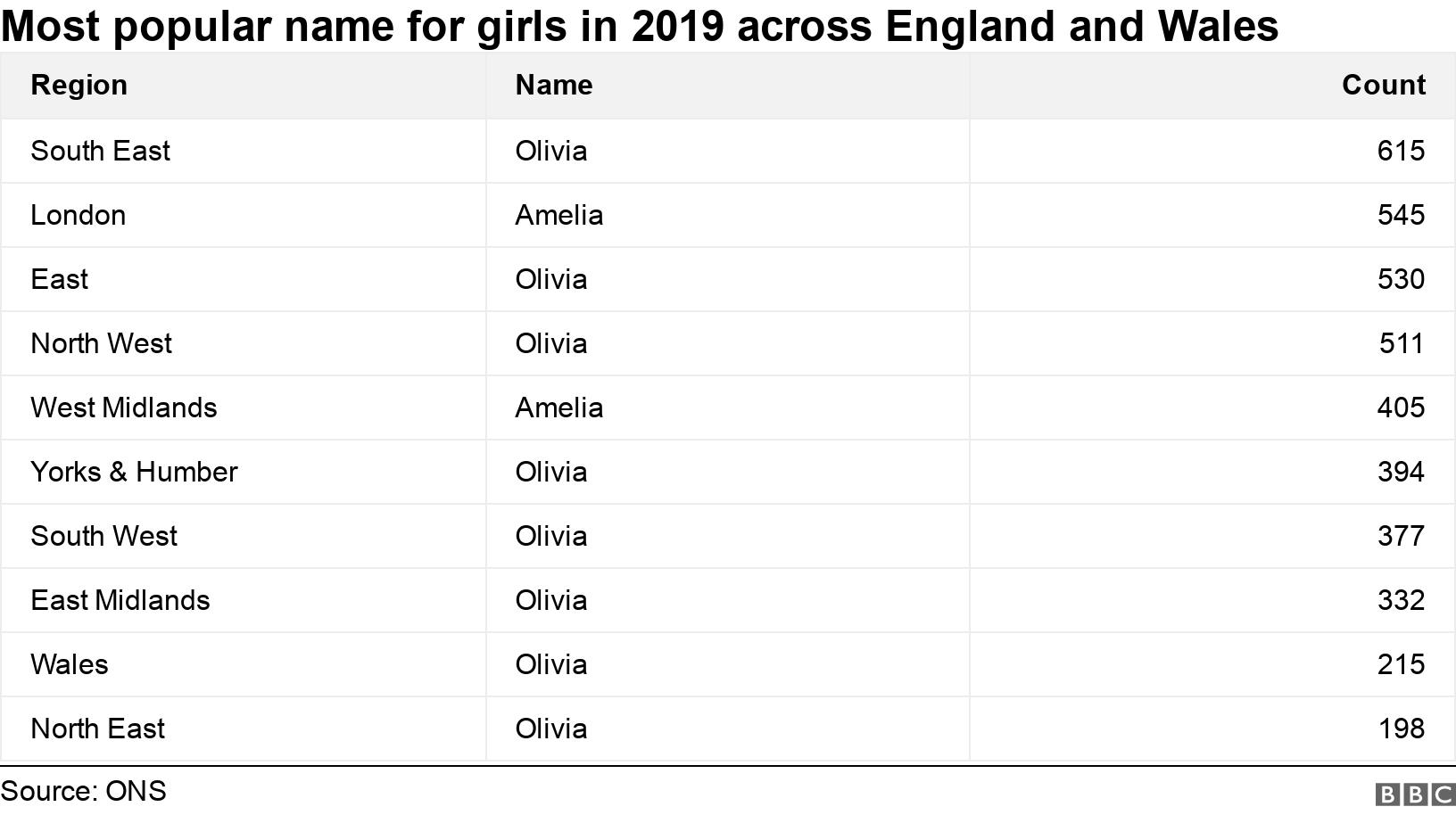 Related Internet Links
The BBC is not responsible for the content of external sites.