Extinction Rebellion protesters block newspaper printing presses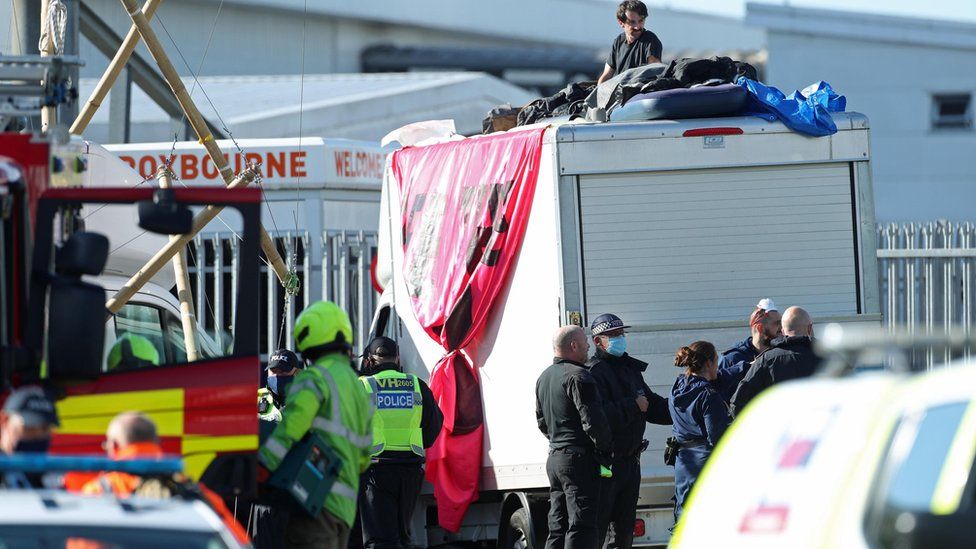 Extinction Rebellion (XR) activists have delayed the distribution of several national newspapers after blocking access to three printing presses owned by Rupert Murdoch.
Protesters targeted Newsprinters presses at Broxbourne in Hertfordshire, Knowsley in Merseyside, and near Motherwell, North Lanarkshire.
Prime Minister Boris Johnson said the action by demonstrators across the country was "unacceptable".
Eighty people have been arrested.
The Sun tweeted to report copies of the paper would be delayed arriving at newsagents, adding the blockade was an "attack on all the free press".
The presses print the Rupert Murdoch-owned News Corp titles including the Sun, the Times, the Sun on Sunday, the Sunday Times, and the Scottish Sun. They also print the Daily Telegraph and Sunday Telegraph, the Daily Mail and Mail on Sunday, and the London Evening Standard.
Demonstrators have accused the papers of failing to report on climate change.
XR used vehicles to block roads to the printing plants, while individual protesters chained themselves to structures.
Vans were covered with banners with messages including "Free the truth" and "Refugees are welcome here".
Boris Johnson said on Twitter: "A free press is vital in holding the government and other powerful institutions to account on issues critical for the future of our country, including the fight against climate change.
"It is completely unacceptable to seek to limit the public's access to news in this way."
Shadow Secretary of State for Digital Culture, Media and Sport, Jo Stephens, said: "People have the right to read the newspapers they want.
"Stopping them from being distributed and printers from doing their jobs is wrong."
And Home Secretary Priti Patel tweeted the overnight action by XR was an "attack on democracy".
Newsprinters also condemned the protests as an "attack on all of the free press", which it said had affected workers going about their jobs and others such as newsagents who faced "financial penalty".
"Thanks to other industry partners, printing was transferred to other sites," it said.
Telegraph editor Chris Evans earlier emailed staff to say that although the paper was not XR's primary target, it was "severely affected".
He told them: "I'm also very concerned - and I hope you are too - by the attack on free speech.
"Whatever your politics you should be worried by this. There are also questions for the police who perhaps placed the right of these few people to protest above the right of the rest of the people to read a free press."
Hertfordshire Police said officers were called to Great Eastern Road near the Broxbourne plant at about 22:00 BST, where they found about 100 protesters who had "secured themselves to structures and one another".
By 06:00 delivery lorries had still been unable to leave the site to distribute papers.
Officers said 50 people had been arrested on suspicion of causing a public nuisance.
Chief Constable Charlie Hall said the group's action had been "an intentionally disruptive and unacceptable protest that had been pre-planned and carefully co-ordinated to create prolonged disruption to local businesses".
Hertfordshire officers arrived "within five minutes of the initial report", he said, however, "the nature of the protest required highly specialist resources and cutting equipment in order to safely remove the protesters from their locations".
Each one had to be individually released from a bamboo structure they had erected, Mr Hall added.
Although business had resumed at the site, he said officers would remain there to monitor the area.
Merseyside Police tweeted on Saturday morning that officers were at the Knowsley plant.
The site had been cleared of protesters by about 10:30 and 30 people had been arrested on suspicion of aggravated trespass.
Police Scotland said in a statement the protest at the Eurocentral plant near Motherwell "was peaceful and there were no issues".
XR has accused the newspapers and their owners of "failure to report on the climate and ecological emergency" and "polluting national debate" on dozens of social issues.
The Federation of Independent Retailers condemned the demonstrations, saying members left without supplies of papers were having "to deal with angry customers who are unable to get their daily newspaper".
National president Stuart Reddish said it also meant retailers were unable to get papers to elderly and vulnerable customers.
"Newsagents have played a critical role during Covid-19 in getting newspapers into the hands of readers and this is not helpful at a time when every sale counts," he added.
Extinction Rebellion has planned 10 days of action and is calling on the government to do more to act on climate change.
In an updated statement following the latest protest, a spokesman said: "We are in an emergency of unprecedented scale and the papers we have targeted are not reflecting the scale and urgency of what is happening to our planet.
"To any small businesses disrupted by the action this morning we say, 'we're sorry. We hope that our actions seem commensurate with the severity of the crisis we face and that this day of disruption successfully raises the alarm about the greater disruption that is coming'."
Meanwhile, climate change protesters have been warned they risk large fines if they fail to comply with coronavirus rules banning gatherings of more than 30 people.
A procession of activists that set off walking from Brighton a week ago was due to march the final stretch to Parliament later.
The Met Police said risk assessments of the march in Westminster "did not meet the required standard" and have banned XR from taking a 20ft model boat named after teenage activist Greta Thunberg to the streets of Westminster.
At about 14:45 on Saturday a group accompanying the boat posted a video on social media saying members had been "stopped on the A3 just after Kennington Park, by a lot of police and 14 police vans".
XR protesters gathered in Trafalgar Square in London had been largely dispersed, police said, and a spokeswoman for the Met Police said officers were also in Euston where a protester had locked themselves to a crane.
Related Internet Links
The BBC is not responsible for the content of external sites.