New Covid shutdown 'would devastate' pubs and restaurants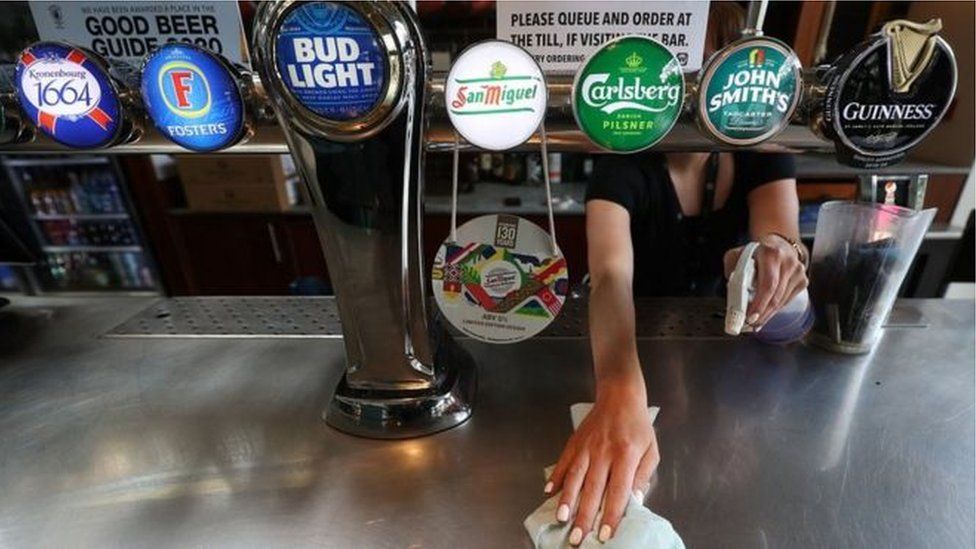 Hundreds of pubs, bars and restaurants in the north of England fear new Covid-19 restrictions could be fatal for their establishments.
Angry bar and restaurant owners said they had worked hard to make their venues coronavirus-secure.
Helen Wong, director of Sweet Mandarin in Manchester, said new Covid-19 curbs would be "devastating news".
"It is going to get very, very difficult especially with rents and the fact that we can't utilise furlough after October," she added.
"The new job support scheme doesn't go far enough. How do we top up [wages] if we haven't got the money to do so, especially being closed?
"We are in the business of fresh food and stock that can't last... there is going to be a lot of wastage."
"We've had a little carrot from the Eat Out to Help Out but this is a massive stick," she said.
Martin Greenhow, who runs five MOJO bars in Liverpool, Manchester, Leeds, Nottingham and Harrogate, said the impact of the increased restrictions would be "catastrophic".
He said: "You've got tens of thousands of businesses that are going to fold, that are going to vacate units in our city centres.
"When you put that together with the fact people are being encouraged not to return to work in offices... So no retail, no hospitality, nobody working there - what does a city centre start to look like after that?
"The impact on the economy is going to be absolutely monumental."
Mark Wrigley, from the Atlas bar in Manchester, said he had followed government rules "diligently".
"We were bouncing along the bottom but as soon as the 10pm curfew came along - whack - we were down to probably 20% of normal takings - it's beyond unsustainable," he said.
"Now I'm thinking: 'Do I make everyone redundant and just close the doors and look at a grand reopening next summer?'
"The whole thing is shocking, you just don't know what you are dealing with day in day out, and it breaks my heart to think that I've got to get rid of my team, they're like family."
"I know I'm not on my own, I speak to the bar owners we're all in the same boat in the centre of Manchester."
The Wylam Brewery on the edge of Newcastle's Town Moor has closed the Tap Room - its indoor pub - until further notice.
A statement on its website said restrictions would cost "many jobs" with the critical drop in trade and end of furlough, unless there was a government rethink.
The firm said it was a viable business impaired by restrictions, adding "we have been hung out to dry by those tasked with leading this city and this country through these difficult days".