Covid-19: Ambulance handover delays reach new winter peak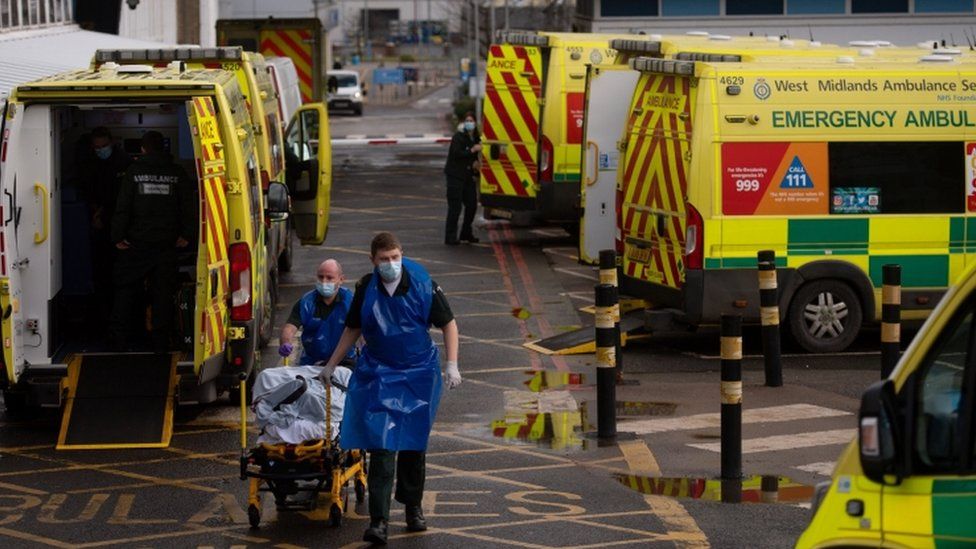 More than 5,000 patients waited longer than an hour to be handed over from ambulance teams to A&E staff at hospitals in England in the week to 10 January, new figures show.
It marks a new peak for this winter, which has seen hospitals report extra pressures due to Covid-19 admissions.
A further 9,267 patients waited between 30 and 60 minutes, according to official figures.
NHS England said the figures are a "stark reminder" of Covid's impact.
University Hospitals Birmingham NHS Foundation Trust reported the highest number for an individual trust.
The trust, England's largest, had 291 delays of more than 60 minutes, followed by Portsmouth Hospitals University NHS Trust with 254 and the Royal Wolverhampton NHS Trust at 180.
A total of 5,513 delays of over 60 minutes were recorded across all acute trusts in England in the week up to 10 January, up slightly from 5,318 delays in the previous week.
A handover delay does not always mean a patient has waited in the ambulance. They may have been moved into an A&E department, but staff were not available to complete the handover.
Pressure on ambulance handovers, emergency units and other hospital services have been widely reported in recent weeks as many hospitals have recorded a new peak in Covid-19 admissions - above that during the first lockdown.
Prof Stephen Powis, NHS national medical director, said 50% more people were coming to A&E for urgent care compared with April.
He said: "These figures are a stark reminder that the NHS is facing an exceptionally tough challenge... there is no doubt that services will continue to be under additional pressure until and unless this virus is under control."
The same trust also cancelled elective operations at the main Queen Elizabeth Hospital and said it had temporarily suspended kidney transplants due to coronavirus pressures.
A spokeswoman apologised to those affected and said the situation would remain under review.
Of the wait times between 30 and 60 minutes, University Hospitals Birmingham NHS Foundation Trust again had the highest number of delays at 780, followed by London North West University NHS Trust and University Hospitals Leicester NHS Trust with 372 and 360 respectively.
Related Internet Links
The BBC is not responsible for the content of external sites.