Warning over dog attacks after 18 lambs killed in Cornwall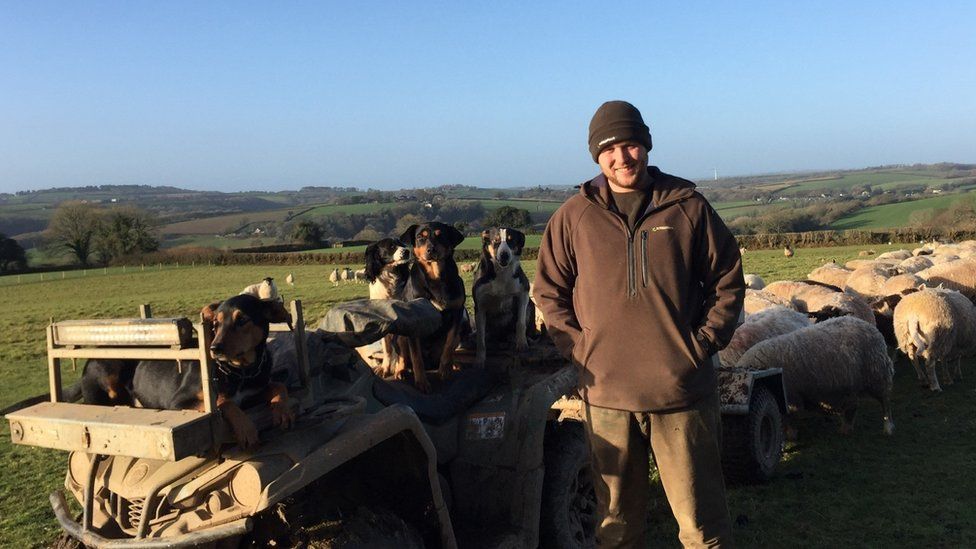 A farmer who found 18 lambs killed in a field is urging people to take care with their dogs around livestock.
Dan Lethbridge, who farms near Liskeard in Cornwall, discovered the lambs with "bite marks and injuries on them that were clearly from a dog attack".
Insurer NFU Mutual said livestock in the South West was most at risk now as farms entered the peak lambing period.
Attacks in the region - from Cornwall to Dorset up to Gloucestershire - cost more than £185,000 in 2020, it said.
Mr Lethbridge said he found the lambs in a field secured by an electric fence in November 2020.
He said: "It's pretty depressing and upsetting to have to deal with this, especially considering the fact that the owners didn't report it - somebody must know something.
"With more and more people using the countryside to walk their dogs, some dogs have never even seen a sheep so the owners can't tell how they will react."
Roz Hills from NFU Mutual said there had been an increase in dog ownership and more people walking in the countryside due to Covid restrictions.
She said: "It's a critical time in the farming calendar and there is widespread concern as we enter the peak lambing season, that there will be a surge in new visitors who are simply unaware of the countryside code or how their dog will behave around farm animals."
Nicola Westlake, who farms near Branscombe in Devon, has reduced ewe numbers from 400 to 90 to ensure they were in secure fields.
She said a dog attack in 2020 on a field with 35 heavily-pregnant ewes which saw one "picked off" was among many attacks in the past 10 years.
Mrs Westlake said: "It's absolutely heartbreaking... It can happen to anybody and it can only take a split second for your dog to be gone."
In England, the owner or person in charge of a dog that worries livestock on agricultural land can be convicted under the Dogs (Protection of Livestock) Act 1953.
Related Internet Links
The BBC is not responsible for the content of external sites.