Covid: More than 9,000 in North East and Cumbria facing op delays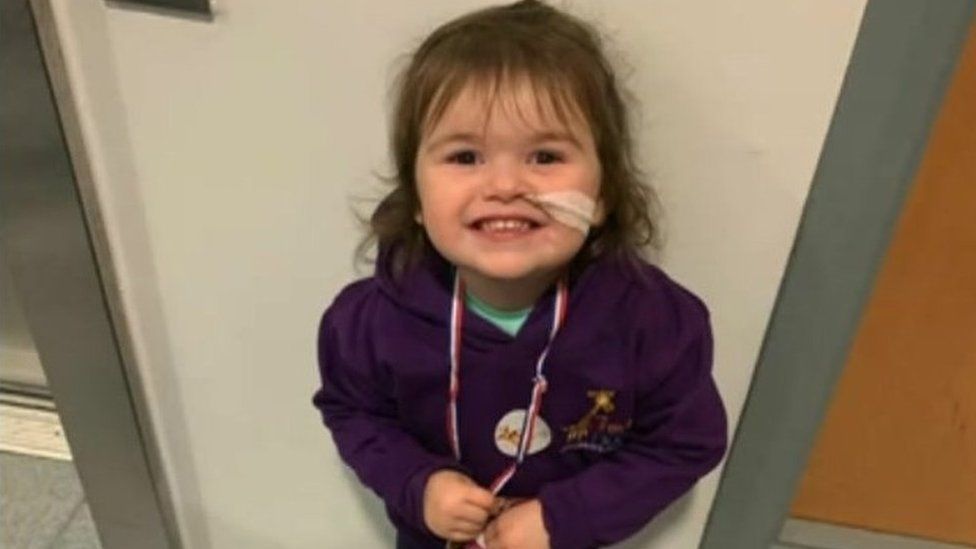 More than 9,000 patients in the North East and Cumbria have been waiting more than a year for hospital treatment.
NHS England said as of December, 9,630 patients had been waiting more than 12 months, up from 7,105 in November.
But it said despite "significant pressure" UK staff carried out six million non-Covid procedures last year.
Laura Hunter, whose daughter Rowan's stomach operation to help her feed was cancelled in December, said her family was "in limbo".
Three-year-old Rowan, from Berwick in Northumberland, relies on a nasal gastric tube because she has difficulties swallowing.
Her mother said it was due to be taken out and replaced with a more manageable feeding tube in her stomach, but the procedure was shelved due to the pressures of the pandemic and had not yet been rescheduled.
"Christmas came and went and we know it's unforeseen circumstances," she said.
"I rang the hospital in January and was told the theatres were closed for two weeks and we would be seen as soon as it was possible.
"We are in limbo, the nasal tube keeps getting knocked out and it's not safe when she's in school."
Retired consultant, Dr Shobha Srivastava, 87, from South Shields, has severe arthritis and has waited for more than a year for surgery on her shoulder.
The 87-year-old, who was awarded an MBE for voluntary work for minority ethnic women, said she sympathised with hospital staff.
She said: "I'm in awful pain and worried that if surgery is delayed further my condition will become inoperable.
"It's frustrating, but I do understand that the NHS is overwhelmed."
An NHS England spokesman said: "Due to the hard work of staff, they are still doing a huge amount of non-Covid work with six million treatments carried out last year."
Related Internet Links
The BBC is not responsible for the content of external sites.