White cliffs memorial planned for Dame Vera Lynn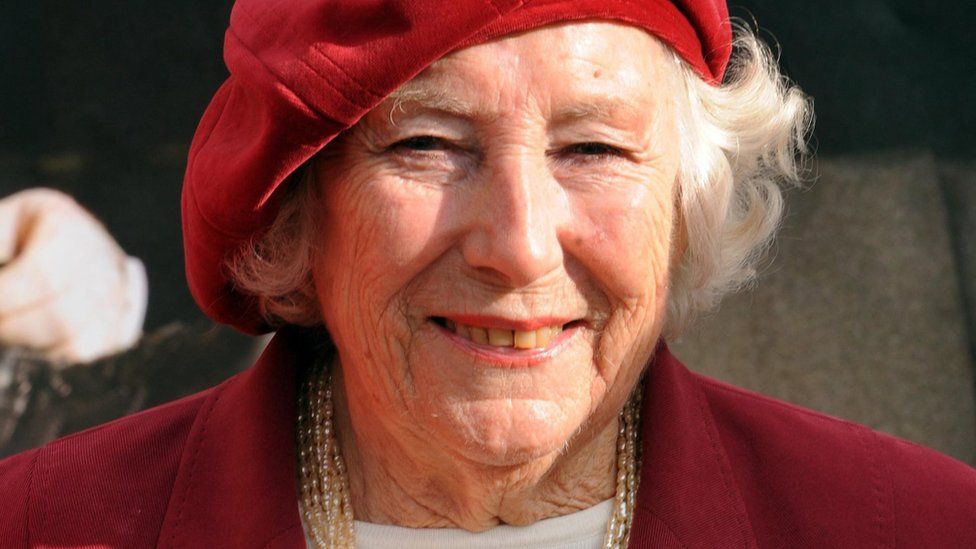 Forces' sweetheart Dame Vera Lynn will be remembered with a memorial on the white cliffs of Dover, under plans to be unveiled by her family and an MP.
Dame Vera, whose songs helped to raise morale in World War Two, died last year, at the age of 103.
She was best known for performing hits such as We'll Meet Again to the troops.
Plans for the memorial, set to cost at least £1.5m, are understood to have support from Dover council and fundraising is to begin next week.
One of Dame Vera's most famous songs, The White Cliffs of Dover, immortalises the National Trust site in Kent that looks over the English Channel.
Southend MP Sir David Amess, a friend of Dame Vera's family, who will launch the campaign on Friday, said the sculpture would be created by the sculptor Paul Day. He said an exhibition centre had also been suggested.
"A lot of people don't know what she did," he said. "She came from an ordinary background like myself in the East End of London.
"She had tough times and hard times and she was always down-to-earth - never grand, and always kind and generous.
"These days, many celebrities are grand and remote but Vera was never like that. And she never forgot the sacrifices made by the troops in the Second World War."
The memorial, which also has the support of Dover MP Natalie Elphicke, is to be paid for by donations and public subscription.
Last year, as the country went into coronavirus lockdown, Dame Vera, who lived in Ditchling, Sussex, compared the challenges that lay ahead to "the darkest of times" in World War Two. She used her birthday and VE Day to give messages of hope.
On VE Day, she quoted from her most well-known song and said: "We will meet again."
Dame Vera, the daughter of a plumber, was born Vera Margaret Welch on 20 March 1917 in the London suburb of East Ham, and discovered her talent for singing at an early age.
Her stage name, Vera Lynn, came from her grandmother's maiden name.
Later, when she volunteered for war work, she was told the best thing she could do was to keep on being an entertainer.
Following her death, tributes from around the world included Prime Minister Boris Johnson describing her as a "truly great Briton".
A promotional video to be released next week will include contributions from Katherine Jenkins, Sir Tim Rice, Sir Paul McCartney and Anthony Andrews.
Related Internet Links
The BBC is not responsible for the content of external sites.