Birmingham and Guildford pub bomb families refused IRA file
By Tanya Gupta
BBC News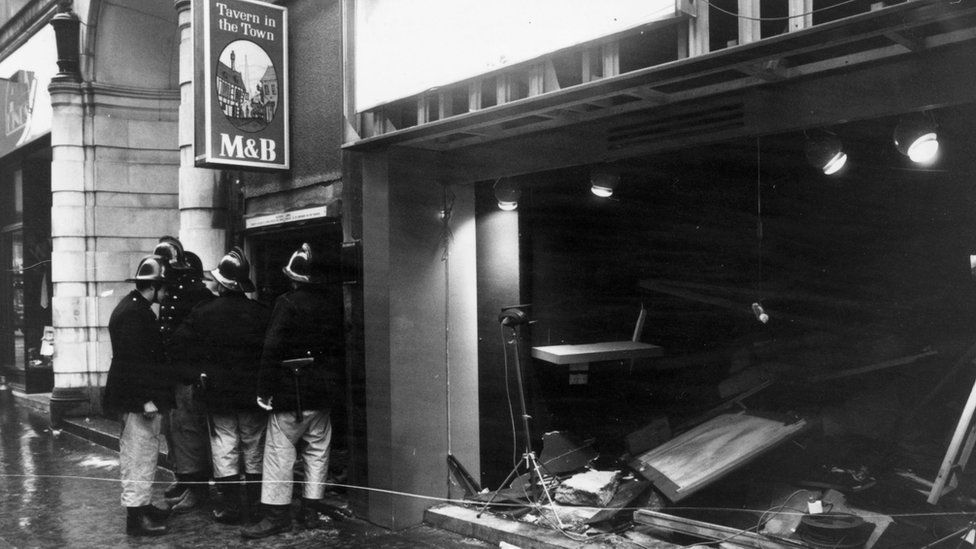 Families of victims in the Birmingham and Guildford pub bombings have been refused access to a classified file.
KRW Law, representing relatives, had said access to the file might have shed light on the government's response to the bombings, which killed 26 people.
A tribunal found limited public interest in disclosure, and said it would prejudice national security.
Her sister Maxine was killed at the age of 18 in the explosion at the Tavern in the Town pub on 21 November.
Following the ruling, Ms Hambleton said: "The decision by the court boosts the myth and rumours surrounding this atrocity, as opposed to allaying them.
"Withholding such information simply confirms not only our worst fears but those of the wider public too, that the state continues to live in fear of its past actions, whilst allowing mass murderers to live full lives without any fear of retribution."
The file at the focus of the information rights tribunal, which was partly heard in public and part closed, was headed Provisional IRA activities and intentions in Great Britain, covering 1975.
In his ruling, Judge Chris Hughes said: "There would be some prejudice to national security, this far outweighs any benefit from disclosure."
He wrote: "It is clear that there continues to be a national security threat from dissident republicans; There is some continuity between 1975 and the present day."
KRW Law said it contested the reasoning of the tribunal, particularly the assessment of the link between terrorist activity in 1975 and the contemporary threat.
They cited evidence given by sociologist Professor Mark McGovern who said the scale of violence was vastly different now.
Associate solicitor Barry O'Donnell said: "We will continue to argue that national security cannot continue to be used to suppress information which would benefit relatives of victims and survivors of the conflict in Northern Ireland.
"If national security means anything it must mean protecting democracy and the rule of law, the foundations of which are transparency and accountability."
The firm said the dismissal was open to further appeal, but the prospects of success were low.
A man was arrested over the Birmingham bombings in Belfast last year and released after questioning.
Related Internet Links
The BBC is not responsible for the content of external sites.