Covid: 'Don't blow it' says health secretary as thousands gather in sunshine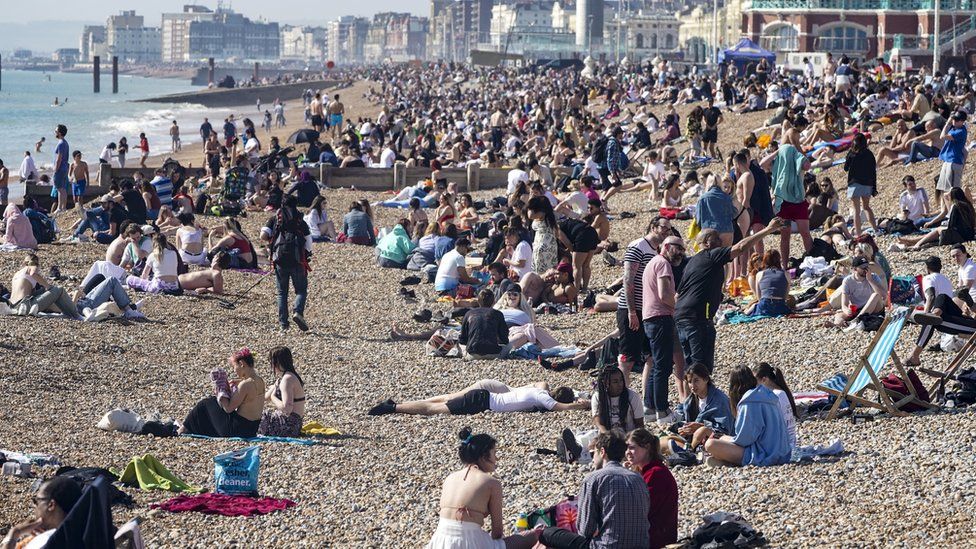 As the UK enjoyed the hottest March day in half a century, thousands gathered to enjoy the weather in outdoor spaces, prompting social distancing concerns.
Heath Secretary Matt Hancock tweeted to say "don't blow it" - urging people to enjoy the warm weather safely.
A Birmingham resident said scenes at a city park "looked like a festival".
"When I see the pictures I do get anxious," Prof Sian Griffiths, a senior public health official, told BBC Radio 5 Live.
"If we're not in a household bubble we need to be two metres apart and I don't think those pictures look like that's happening."
"We regret having to take this action, since everyone has been looking forward to the chance to visit our parks, now that easing of restrictions means we can meet up to six other people outdoors," he said.
"Sadly, the actions of a thoughtless minority has spoilt that. We will keep the situation under review and hope to reopen parks as soon as possible."
Let's enjoy the sun but let's do it safely. We have come so far, don't blow it now.

— Matt Hancock (@MattHancock) March 30, 2021
In Birmingham, thousands gathered at Holders Lane playing fields, in Moseley, with taxis doing multiple drop-offs from about 20:00 BST.
The BBC understands a party had been arranged earlier in the day via social media and at the time there was no police presence.
Flyers were also shared on social media regarding another gathering for students in the city's Cannon Hill Park, which is linked to the playing fields. West Midlands Police said officers had been sent there but "did not need to issue any fines".
"Officers initially found no breaches of coronavirus legislation, with people enjoying the weather in small, individual groups," Supt Farooq Sheikh said.
"The crowds were good-natured and engaged with officers and the park was all clear by 23:30."
However Adam Jones, who lives nearby, said the park "looked like a festival" on Tuesday evening.
"While there were a fair few people in small groups respecting distancing, they were overshadowed by lots of big groups, sometimes up to 20 to 25 people, blaring music," the 27-year-old said.
Thousands of revellers on Brighton beach danced into the night as fire performers drew large crowds as the sun went down. Some were photographed flouting the rule of six and social distancing guidelines.
Merseyside Police made the decision to impose a dispersal order on Formby beach following reports of anti-social behaviour.
The force said it was in response to "youths gathering on the beach and dunes" and would remain in place until 19:00 on Thursday.
A dispersal order's been put in place in #OldLeigh following anti-social behaviour there this afternoon.

It's in place between 6.30pm today and 6.30pm tomorrow.

It gives powers to officers to direct anyone acting anti-socially to leave the area.

Pic credit: Google Maps pic.twitter.com/Ewj4eCvsZN

— Essex Police (@EssexPoliceUK) March 30, 2021
Newquay Community Fire Station was called overnight to dunes by Fistral beach twice this week.
Multiple groups were found burning rubbish and a skip was on fire because of "inappropriately" discarded disposable barbecues, the station said.
Last summer when thousands flocked to Bournemouth beach, in Dorset, for one of 2020's warmest weekends, a spike in the number of coronavirus cases was predicted but never materialised.
"If you were carrying one of the variants we'd see a different picture," she said. "This is all about reducing risk - yes the risk of passing the disease on outside is much lower than if you're inside, but it's still there."
By Dr David Gregory-Kumar, BBC Midlands Today science correspondent
If you've been obeying the rules then pictures of people out partying in a local park probably rub you up the wrong way. Plenty of people are ready to blame thoughtless behaviour, particularly by the young, for any rise in infection rates.
The scientific truth though is that a gathering outdoors is very low risk. Scenes of Britons heading to beaches or to hills as lockdowns were lifted in the past have not been followed by more people ending up in local hospitals. Outdoors, the airborne coronavirus quickly blows away and so the danger of infection is small.
While what happened yesterday in our parks is against the rules, it likely won't cause problems long term, at least as far as Covid is concerned.
It's worth contrasting these outdoor parties with events like Cheltenham Races in 2020. Cheltenham may have been an outdoors event but it also went hand in hand with packed public transport, bars and pubs. Now that was an event that many suspect did cause infection rates to increase.
"Despite today's easements," Prime Minister Boris Johnson said at the time, "everyone must continue to stick to the rules."
The government also unveiled a new slogan - Hands, Face, Space and Fresh Air - to emphasise the importance of ventilation in reducing the spread of the virus.
"It's your behaviours while you're [outside]," Prof Griffiths said. "We just have to think about the risk of the virus and adapt our behaviours."
One of the other concerns to follow the gatherings was the "masses" of litter left behind in parks.
Rebecca Langton, a Nottingham City councillor, said rubbish left behind in the city's outdoor spaces was "really disappointing".
"We've spent a good couple of hours this morning cleaning up masses and masses of litter," she said.
"We want people to get out and enjoy the parks but it's just about people being responsible."
The BBC's Tom Airey was at Woodhouse Moor, in Leeds, as the aftermath of Tuesday's crowds was laid bare and said there was "a sea of rubbish stretching across the park's gentle slopes".
The first Leeds City Council workers to arrive had already filled four hay bale-sized bags of litter by 10:00, collecting glass beer bottles, crisp packets, discarded bags-for-life, used disposable barbecues and nitrous oxide canisters. This was all despite multiple 'no litter' signs along the park's tree-lined paths.
"It's really disgusting that people left their litter piled up by the bins and across the grass, and it's an issue that happens every time there's a hot day in Leeds," 26-year-old student Sophie Meredith said.
"Today was the worst I've ever seen it, and it's probably made worse by the fact that everyone's been cooped up for a year."
Similar scenes have been reported across England in places including Sheffield, Doncaster and Bristol.
We know people have missed socialising in the sun but this is not what is meant by easing out of lockdown. @sccstreetsahead have been out since 6am clearing up but our resources could be much better spent.
Enjoy @ParksSheffield but don't leave your mess, please love our parks☹️ pic.twitter.com/9Avj4C4e7i

— SheffieldCityCouncil (@SheffCouncil) March 31, 2021
In Sheffield, the council started a litter-picking operation early in the morning and shared images of rubbish strewn across Endcliffe Park.
"[Maintenance workers] have been out since 06:00 clearing up but our resources could be much better spent," the local authority said on Twitter. "Don't leave your mess, please love our parks."
The waste left behind at Birmingham's parks also meant the city council there had to suspend planned grass-cutting so workers could focus on removing litter.
Keep Britain Tidy said the litter was a "disaster for our environment" and urged people to "take some responsibility and dispose of their rubbish correctly".
"While it is great that people can now come together in our parks and on our beaches after a long, hard winter, we need them to do the right thing," Richard McIlwain, from the charity, said.
"Particularly when it comes to disposing of their rubbish."
Related Internet Links
The BBC is not responsible for the content of external sites.