North East venues thrilled as indoor socialising returns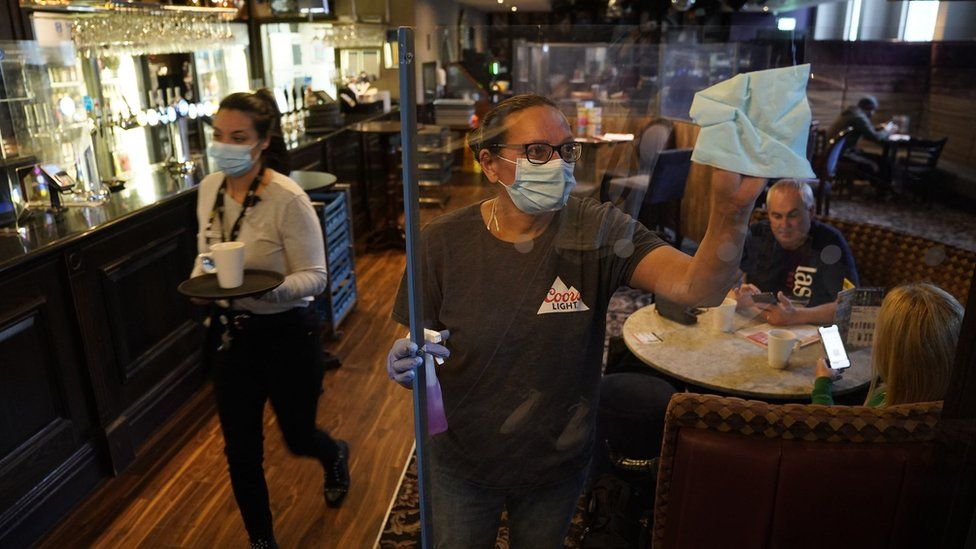 Pubs, restaurants and entertainment and sporting venues across the North East and Cumbria have been welcoming people back indoors as restrictions ease.
The need for social distancing has reduced capacity, and all have the necessary measures in place.
One bar owner said she was really looking forward to seeing her "lovely regulars" again.
And a theatre director described its opening later as a special occasion for both the audience and performers.
Ray Spencer, director of the Customs House Theatre in South Shields, said: "I'm sure there will be tears.
"Because connecting back with the audience, for those performers, it's hard to explain if you're not a performer, how you need that connection, how you need that adrenaline rush.
"And they'll be getting that tonight."
Amy Fair from Redcar racecourse, which hosted its first meeting with spectators since October 2019, said: "We are being very cautious and we have a reduced capacity to what we would normally have, it's considerably reduced."
Races have been taking place behind closed doors but it would be good to welcome people back, she added.
Kathleen Brain, who owns The Steamboat pub in South Shields, said she was really looking forward to seeing their "lovely" regulars again.
"It's going to be great, it's so exciting to see them again, we've really missed them," she said.
"The majority of my customers are over 50 and they've all had their jabs now so I'm hoping that's give them a bit reassurance and they'll all come out."
Dennis Fisher set off at 05:00 with his dog from Huddersfield to get to Keswick, Cumbria, in time for a sit-in breakfast, his first in the town for a year.
"It's superb, it's what we've all been waiting for because it's been so cold. I've been visiting Keswick for 50 years and I come up here most months," he said.
Sarah Bell, manager of Jasper's Coffee House in the town, said it had been a long road to reopening: "The stop and start of everything all the time has been hard on the staff. To get a catering business up and going from scratch every single time is really difficult.
"I think the industry's suffered because people are struggling to find a job that's secure. We're struggling with staff a bit because people aren't wanting to take something in case lockdown comes again."