Cycling: Councils under pressure to relax bike shed planning laws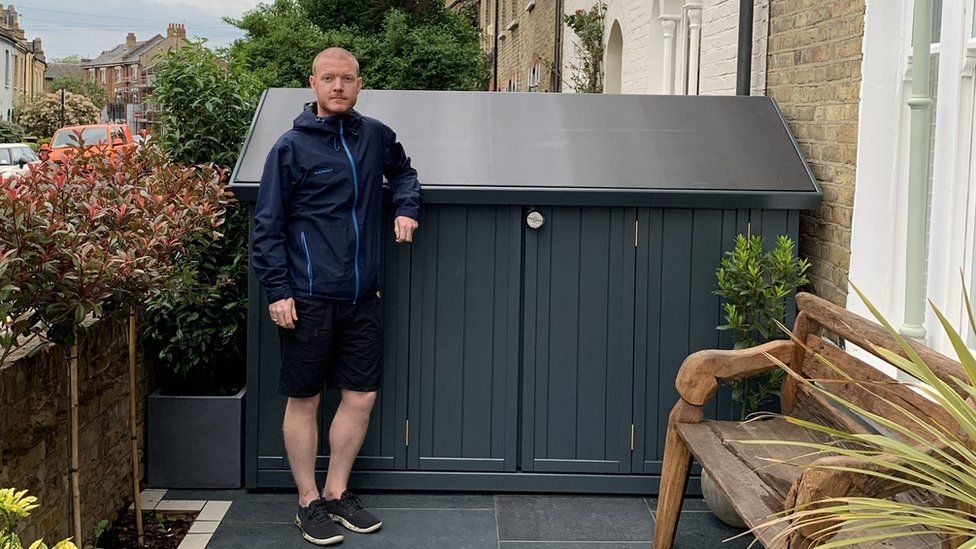 As more and more people get on their bikes during the pandemic, cycle sheds have been popping up in front yards and gardens.
But some of the structures are falling foul of the law and causing planning problems.
Cycling has seen record growth throughout the pandemic as people avoid public transport, but this has brought the problem of where to store your bike.
Now, councils in England are under pressure to change their planning rules to make it easier to have cycle sheds in front gardens.
It comes after a family in Leicester won a planning case to keep their structure after the council asked them to take it down.
BBC News has found other recent cases where people have been sent enforcement letters to remove bike sheds.
Kavi Pujara, 49, who built the shed with an eco-roof for his children in Leicester said cycle storage had become a major problem.
"We didn't set out to set a precedent on this issue but I hope other cyclists can soon apply for planning for convenient, secure cycle storage," he said.
In Scotland, the rules changed in April to allow homes to put up cycle stores up to 1.5m in height without applying for planning permission.
The Local Government Association, which represents councils in England, says the sheds should be "suitable and appropriate for their environment".
Some councils are trying to remove the cycle stores because they are classed as an outbuilding or shed - and in order to fit national permitted development rights, outbuildings cannot be constructed in front of a house.
Once a council has written to a resident, they normally have 21 days to remove the structure, if not they could be liable for a fine up to £20,000.
Cyclists affected argue they often have nowhere else to store bikes, due to a lack of street provision.
In Kavi's case, the mayor of Leicester was unhappy with the original decision to remove the shed and asked the planning committee to get involved.
James Whittingham from north London is in a dispute with Haringey Council over his shed, which sits near his front window.
He says there are already more than 100 bike sheds in his immediate area, the vast majority of which have not sought planning permission.
"We went back pointing all this out with supporting pictures, highlighting that they should be encouraging cycling. Not discouraging it."
James says he initially asked about a place in one of the street bike shelters.
"They told us we are not a priority as we have a front garden and therefore have the option for our own storage, yet we are now being asked to take it down. It's totally mixed messaging that makes no sense," he added.
Haringey Council said it "very much encourages cycling in the borough", but it had received complaints about a bike shed in a conservation area and had "a duty to send our enforcement officers to investigate".
Retail figures from The Bicycle Association suggest sales of bikes have grown by 60% since March 2020, with one in every five pounds spent on e-bikes.
Cycle campaign groups say the removal notices go against many local authority plans to increase cycling for everyone.
Duncan Dollimore from Cycling UK wants councils to take a new approach.
He said: "It lies within their gift to use what are called local development orders, which grant planning permission for specific types of development, and they could do that for cycle sheds."
Duncan believes removal notices are giving mixed messages.
"We have active travel teams saying we need more people cycling. Then in the planning department we have a situation that restricts active travel," he said.
A Local Government Association spokesperson said: "Councils are promoting active travel, and encouraging more people to cycle through greater investment in cycle-proofing new and existing roads and junctions, cycle parking facilities and introducing 20mph zones.
"This is in keeping with a planning system that exists to ensure that all developments are suitable and appropriate for their environment, and that all material considerations can be taken into account."