Covid: Eight Indian variant areas should avoid indoor gatherings
By George Bowden
BBC News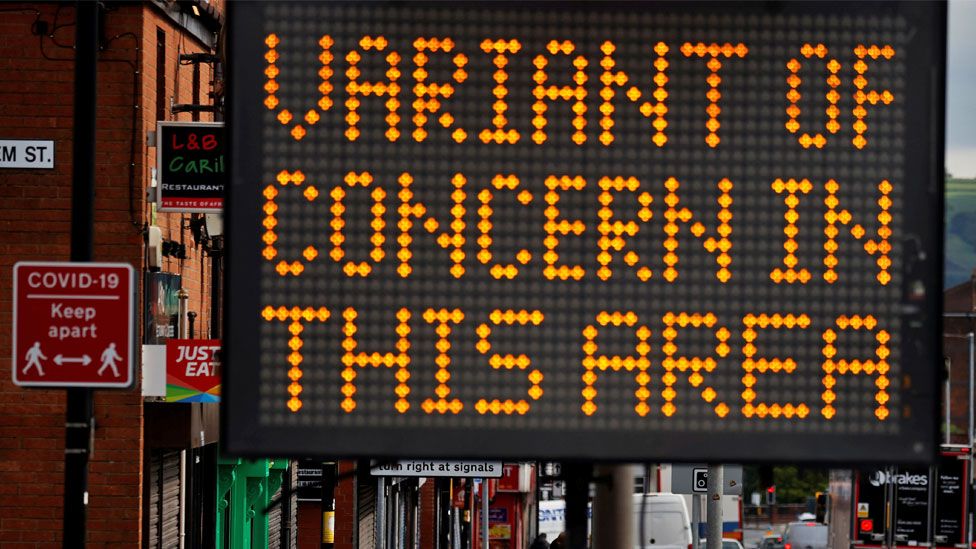 Government advice has emerged urging people not to travel into and out of areas hit by the coronavirus variant first found in India, unless necessary.
The guidance for Kirklees, Bedford, Burnley, Leicester, Hounslow and North Tyneside says people in these areas should try to avoid meeting indoors.
The advice was published online on Friday without an announcement and urges "an extra cautious approach".
A Downing Street source denied it was a local lockdown by stealth.
The prime minister's official spokesman said the government wanted to encourage the public "to exercise their good judgement", rather than issuing "top-down edicts".
Advice against travelling to Bolton in Greater Manchester and nearby Blackburn with Darwen, other than for essential reasons, and for people there to meet outside where possible, had been issued on 14 May. It was updated to include the six other areas on Friday.
Greater Manchester's Labour Mayor Andy Burnham said issuing the advice without warning was a "major communications error" which had a "major effect on people's lives" and a government minister should issue a clarification.
David Greenhalgh, Conservative leader of Bolton Council said he had been assured there were "no added restrictions coming to Bolton" and "no local lockdown".
Bolton recorded 451 overall cases per 100,000 people in the week to 20 May, the highest in England, as the Royal Bolton Hospital said it would take "urgent action" to manage an increase in Covid patients.
Meanwhile, the UK reported 15 new deaths within 28 days of a positive test and 2,493 new confirmed cases. Tuesday's figures for reported deaths are sometimes higher due to weekend reporting delays.
Several of the local authorities affected by the new advice - which represent more than two million residents combined - said they were not consulted about it.
North Tyneside Council said officials did not know about it until Monday, while leaders in Lancashire said they would discuss the new guidance with the government later.
Blackburn with Darwen's director of public health Dominic Harrison said the affected areas "were not consulted with, warned of, notified about, or alerted to this guidance".
But the Downing Street source told the BBC all the areas were informed about the latest advice.
Meet outside rather than inside where possible
Keep two metres apart from people who you do not live with (unless you have formed a support bubble with them), this includes friends and family you don't live with
Avoid travelling in and out of affected areas unless it is essential, for example for work (if you cannot work from home) or education
In a fiery Commons exchange, shadow health secretary Jonathan Ashworth urged Vaccines Minister Nadhim Zahawi to "withdraw this guidance now".
Mr Ashworth, Labour MP for Leicester South, asked what families with trips planned and couples with weddings arranged should do this coming bank holiday weekend.
Mr Zahawi urged leaders to work together and said the government was asking people in the eight areas "to be cautious, to be careful".
Health Secretary Matt Hancock used a Downing Street briefing last Wednesday to urge vulnerable people to have their second dose of a vaccine to guard against the Indian virus variant.
Mr Hancock announced an increase in surge testing in six areas where the variant was circulating, but did not outline any specific rules or travel guidance.
Yasmin Qureshi, Labour MP for Bolton South East and shadow international development minister, said she had not been informed of any new advice and was "gobsmacked" by the updated guidance.
"They're making such an important announcement and they don't even have the decency to tell us or tell our constituents," she said - adding that many people would have made plans to travel over the bank holiday weekend.
She said it was "not clear" whether "this is advisory or legally obligatory" and described the move as "incompetence" on the part of the government.
The Downing Street source said it was advice, not law, and that all the areas had proceeded with step three of England's roadmap out of lockdown on 17 May.
Risk remains - but UK's position is now very different
The Indian variant is on its way to becoming dominant in the UK, pushing out the Kent variant that caused the deadly winter surge.
But the implications of that are uncertain. In some areas, such as the north west of England, it is pushing up infection rates as well as replacing the Kent variant.
Elsewhere it just seems to be replacing the Kent variant without having much of an impact on the amount of virus circulating.
Government scientists always warned the easing of restrictions would lead to an increase in cases - and that is now more certain with what seems to be a more infectious variant circulating.
What no one knows at the moment is how large that increase will be and what impact it will have on hospital cases.
The UK is in a very different position than when the Kent variant started taking off.
Infection levels are low - we have one of the lowest rates in Europe - and the vaccination programme is well advanced.
But there is still a risk of a big wave of serious illness. The difficulty scientists face is quantifying that risk, which makes deciding the proportionate response very hard.
Layla Moran, who chairs the all-party parliamentary group on coronavirus, said the advice risked confusing people.
She said: "This is a major change to policy that will have a huge impact on people's lives. Simply updating the government website without an official announcement is a recipe for confusion and uncertainty.
"Local people and public health leaders in these areas need urgent clarity from the government. Matt Hancock must come before Parliament and make a public statement to explain these new rules."
No first birthday party and money down the drain
Skipping birthday celebrations and cancelling trips to see relatives are among the impacts of the sudden revelation of government advice against non-essential travel to eight areas in England.
Julie Suttar, from Aberdeen, booked a hotel in Leicester as part of a planned trip to visit family she has not seen since the pandemic began.
"I can't believe it, I've been on the phone to my sister, in tears. Where's this come from? Where's the notice?" she asks.
"My Travelodge is non-refundable, £50 down the drain, on top of other deposits and holiday costs lost last year."
Elizabeth Pannell, from Kirklees, did not arrange a first birthday party for her son due to all the uncertainty - a decision she feels has been vindicated with the new advice.
"I held off organising anything because of Covid, and now I'm so glad I did," she says.
"It's sad that, yet again, Covid has ruined any chance for this little boy to have a normal day with his family."
On Friday, Scotland's First Minister Nicola Sturgeon said travel restrictions would apply to Bolton, Blackburn with Darwen and Bedford, as she urged people to reconsider plans to visit the areas.
Related Internet Links
The BBC is not responsible for the content of external sites.