Covid: North East gets five-week government support to slow growth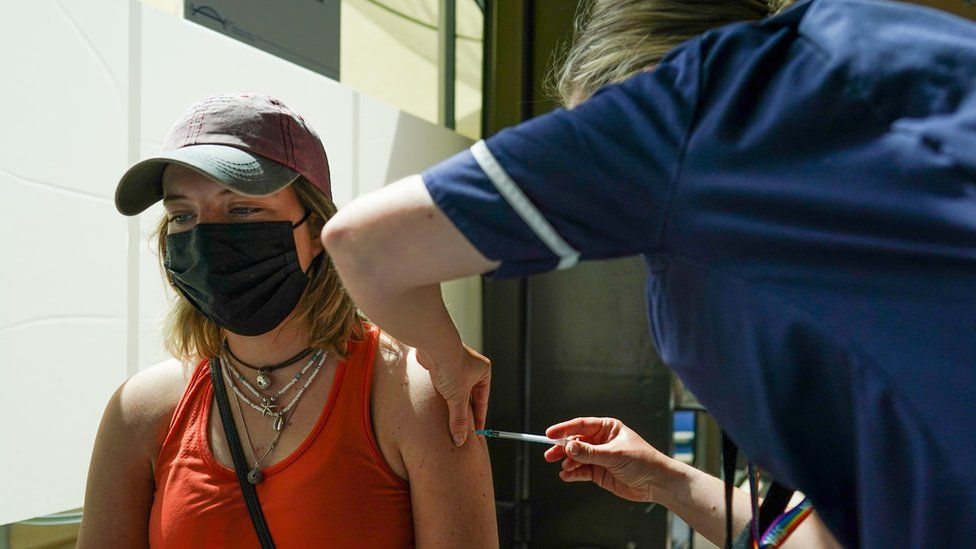 A five-week support package is being deployed to the entire North East of England in a bid to "slow the growth" of Covid-19, the government has said.
Options to ramp up testing and roll out vaccines will be available from Monday.
Residents are being told to "remain cautious" and follow guidance to stop the spread of the Delta variant, after the region saw a rise in cases.
It comes as a similar package of support in the North West and Bedford is to be scaled back.
The move has been backed by the seven councils across Tyne and Wear, Northumberland and County Durham, and the five which make up the Tees Valley.
Redcar & Cleveland continues to have the highest rate in England, with 2,090 new cases in the seven days to July 19, the equivalent of 1,523.9 per 100,000 people.
Middlesbrough has the second highest and Stockton-on-Tees the third, according to the latest figures.
"The support package includes the option to deliver extra testing in these targeted areas, the provision of logistical support to maximise vaccine and testing uptake, and further help for local public health campaigns," the Department for Health and Social Care said.
"As the data changes it is vital that our public health response continues to change with it," she said.
"Vaccinated people are far less likely to get Covid-19 with symptoms and even more unlikely to get serious Covid-19, to be admitted to hospital, or to die from it and there is growing evidence that they are less likely to pass the virus to others."
Mary Lanigan, leader of Redcar and Cleveland Council, welcomed the additional support and said in addition to the government plans, a mobile vaccination unit would be available.
She said: "We've come so far together but it's a long way from being over.
"We need to look after each other once again and get this dreadful disease under control."
'Dramatic drop-off in vaccines'
Mark Adams, chief officer of the Newcastle Gateshead Clinical Commissioning Group, said the "dramatic drop-off" was "a concern to us all".
Just under half of people aged 18 to 39 in the city are yet to have their first dose, while roughly 29% of its adult population have not had a jab at all.
The UK recorded 36,389 new infections - a further drop from 46,558 logged on 20 July.
Related Internet Links
The BBC is not responsible for the content of external sites.