Afghanistan: Councils in England pledge to welcome refugees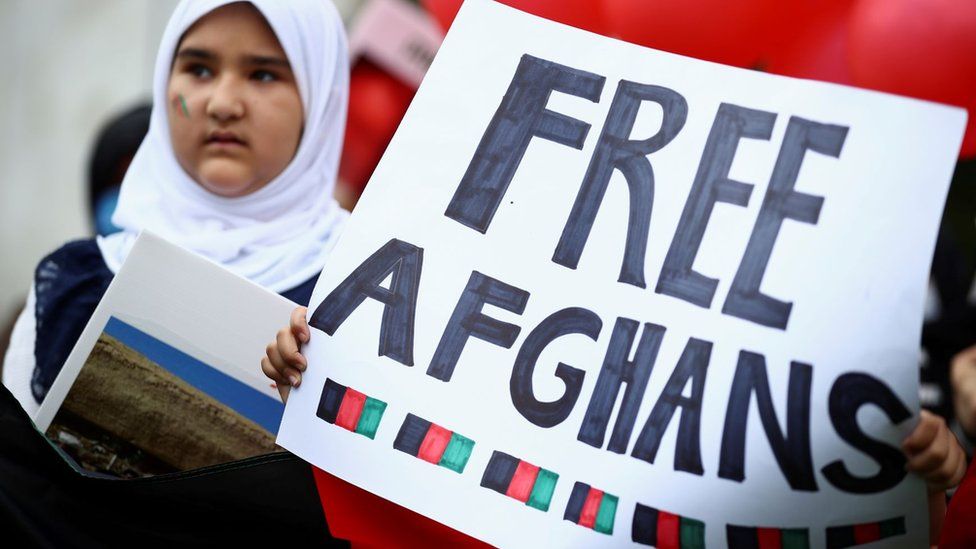 Councils across England have said they are committed to taking refugees from Afghanistan, after the Taliban took control of the country.
The UK has agreed to take in up to 20,000 refugees over the next few years, including 5,000 this year.
Greater Manchester mayor Andy Burnham said councils around the country should be required to take their fair share.
The government said the programme would have funding and it would work with councils on where to house refugees.
Thousands of Afghans have been trying to flee the country after the militants seized control of the capital Kabul.
The new plan to take some of those refugees is on top of an existing scheme for interpreters and other Afghans who have worked for the UK government - the Afghan Relocations and Assistance Policy (ARAP).
Some 5,000 Afghans and their family members will come to the UK via that scheme this year. Nearly 2,000 have arrived since 22 June, the government said.
Mr Burnham said: "Greater Manchester doesn't look away - we will always play our part. In fact, we are already playing our part in stepping up to dealing with that crisis.
"But Greater Manchester has always played more than its part when we look at areas across the country when it comes to matters of asylum.
"We don't believe the current approach is sustainable."
The Labour metro mayor said there should be a requirement for councils across England to take refugees.
"It's been done on a voluntary basis," he said. "Areas haven't stepped forward."
But several council in England have said they have begun to take families from the ARAP scheme, and are willing to take refugees under the new resettlement programme.
Mayor of Bristol Marvin Rees said the area would resettle 10 Afghan families, and would take more if there was further government funding.
"We need to do more," the Labour mayor said. "[But] we need to move at a pace that the city can cope [with]."
Graham Plant, deputy leader of Norfolk County Council, said the authority was "supporting a number of Afghan interpreters in the county with more expected over the coming weeks".
The Conservative said the council was "ready to offer further support" and was waiting for more details from the Home Office.
In Gloucestershire, county council leader Mark Hawthorne said the authority would help "in any way it can".
Local authorities in the county have already committed to the resettlement of 35 Afghan translators and their families.
Mr Hawthorne, Conservative, said: "We will support the national effort to help the most vulnerable Afghan people to settle in the UK."
In Essex, around 80 Afghan interpreters and their families have already arrived in Colchester and Chelmsford.
Thurrock Council has written to the Home Office offering to take part in the resettlement programme, while Basildon, Braintree and Rochford councils said they were identifying suitable housing.
More than 20 Afghan interpreters will be rehomed in Staffordshire and Stoke-on-Trent with their families and Dudley Council said it would take 20 Afghan families in the borough.
But a councillor in Devon said people in the local area who need housing should be given priority over Afghan refugees.
Doug Bushby, an Independent on Torridge District Council, said the area did not have "any housing stock whatsoever".
"We can't make a decision to house local people ourselves let alone anyone coming in from overseas," he said.
The authority agreed to take families from the ARAP scheme, but Mr Bushby said: "I am not making an argument that I don't want them here, my question is where are they going?"
Home Secretary Priti Patel said a target of 5,000 refugees in the first year was "deliverable".
She said: "It would be terrible quite frankly to bring people and not be able to give them the support that they would need in terms of accommodation, resettlement and giving them the opportunity to build a new life in the UK."