Paul Taylor's rude name place tour suffers hitch after Twatt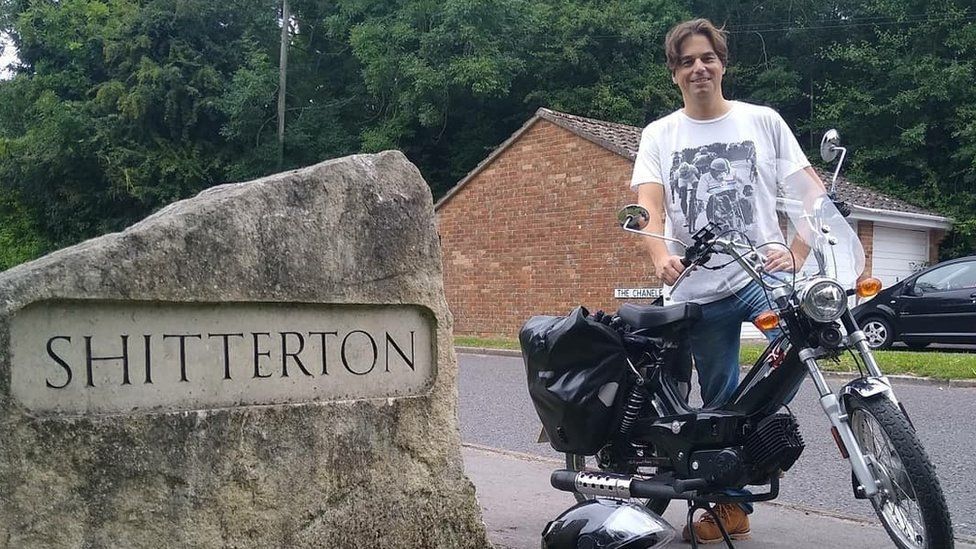 A man touring places with rude names on a 50cc moped will complete his journey in a hire car after his engine seized on a remote mountain pass.
Paul Taylor, from Wantage, Oxfordshire, is making the charity fundraising trip, which started in Shitterton, Dorset, in memory of a friend who died of cancer.
He reached Twatt in Orkney on Wednesday but broke down the following morning near Cairn O'Mount in Aberdeenshire.
His trip has so far raised nearly £20,000 for cancer research.
Mr Taylor said he got "really upset" after his engine expired.
He said: "I know it's only a bit of metal but you get attached to it - we've seen some amazing places this last week or so.
"I did 1,200 miles on that thing in a week. It did really well.
"I did half expect it. I was overworking it but I got to the point where I thought we were actually going to make it."
He said the benefit of having a faster vehicle meant he would be able to visit some extra places on his return leg.
"There's Low Cock How in the Lake District and Mycock Lane in Buxton, which I might slip in there," he said.
Mr Taylor said after his friend Alexis Leventis died of cancer last year, aged 55, he wanted to do something "to help beat this awful disease" and believed the trip was "a suitably ridiculous place to start".
He called the trip the "Moronic Moped Marathon" and the money raised will go to the Institute of Cancer Research.
Before it broke down, Mr Taylor's Slovenian Tomos XL45 Classic had a top speed of 28mph.
He is due to complete his challenge in Bell End, Worcestershire, on Saturday.