Historic England highlights windmill, mud walls and sports hall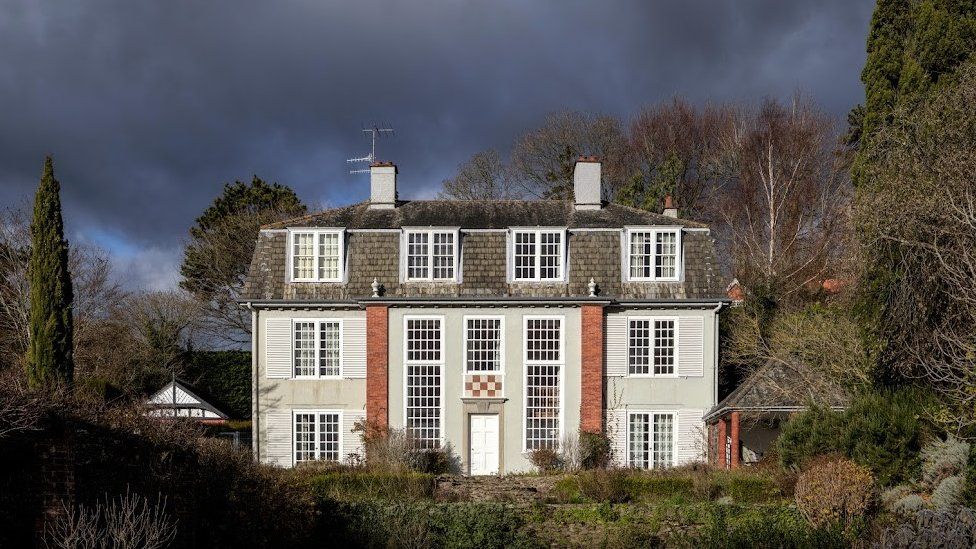 An 18th Century windmill, a 1970s sports hall, some mud walls and an arts and craft house are featured on a list drawn up by Historic England.
The organisation has pulled together a range of highlights from the nearly 300 sites which have been protected through listing or scheduling in the past year.
The list is aimed at celebrating the "diversity of the country's shared heritage".
It is also hoped it will inspire people to visit the places mentioned.
The Dome, Mildenhall, Suffolk
The Grade II-listed 1970s sports hall was built using the revolutionary Bini system, by which a giant balloon is covered with concrete and inflated.
The system was invented in 1963 by Italian architect Dante Bini who saw in it a means of achieving economy and speed in construction.
The membrane was kept inflated for 60 hours to allow the concrete to set, after which windows and doors were cut into the structure.
Skerne railway bridge, Darlington, County Durham
Skerne Bridge, which was awarded Grade I listing earlier this month, was built for the opening of the Stockton and Darlington Railway in 1825.
It is the most famous design by architect Ignatius Bonomi, and the elegantly proportioned structure, with a single masonry arch spanning the river, flanked by two smaller pedestrian arches, was perhaps inspired by triumphal arches often built to celebrate great victories.
Thought to be the oldest railway bridge carrying regular passenger trains in the world, its historical significance meant that in the 1990s its image was featured on the £5 note.
Durbins, Guildford, Surrey
While the house at Durbins - designed by renowned artist and critic Roger Fry and described as one of the most independent pieces of architecture in England prior to World War One - was upgraded, another part of it was granted its own listing.
The garage, or "motor car house", has also been listed at Grade II.
Built slightly later than the house, which dates from 1909, it is a prefabricated timber structure with a gabled roof, and looks like a timber-framed building of an earlier era.
It has had very few alterations since it was put up in the 1920s.
Lelley Windmill, Elstronwick, East Riding of Yorkshire
The windmill, built in 1790, has been upgraded to Grade II listed.
Its original milling machinery was later adapted for operation by steam power and the 19th Century vertical steam boiler and chimney have survived.
The mill's trade is then likely to have fallen away with the construction of large commercial steam mills in Hull in the early 20th Century.
Historic England said it "encapsulates the impact of the Industrial Revolution on small-scale rural industry in Yorkshire".
Mud walls, Whittlesey, Cambridgeshire
The group of mud wall structures, thought to date to the 18th and 19th Centuries when the government imposed a tax on brick and tile, have been granted Grade II listing.
They are constructed of local clay as an inventive way to work around the tax, which was imposed to pay for the American War of Independence, and they are the only surviving group of mud structures in Cambridgeshire.
High-quality clay from reclaimed land in the Fens was then topped by more durable material, such as brick or stone, to create a plot boundary.
Over the decades many have been lost, as plots were sub-divided, or they were replaced with quick-to-install modern fencing.
Shoreham Memorial Cross, Sevenoaks, Kent
As a poignant testament to local people who lost their lives in World War One, the cross was the idea of Shoreham resident Samuel Cheeseman, who lost two sons.
Carved into the chalk of the hillside and carefully edged with chalk blocks, it was designed to be seen from the Shoreham War Memorial in the valley below and was carefully shaped and scaled to appear symmetrical.
Men, women and children from the village worked together to complete the cross, which was finished in September 1921, and it has now been recognised as a Scheduled Monument.
Former Picture Palace, Prescot, Merseyside
One of the earliest surviving "cine-variety" houses in England, a precursor of the modern cinema, it was granted Grade II listing.
Built in the Edwardian Baroque style, it was described at its 1912 opening as having a palatial appearance and being "quite luxurious".
Though it has been adapted for various purposes since its original creation, its original format and decorative scheme remain, as do the fixtures and fittings including the cinema seating, doors, and fire-resistant projection room.
Ingleberg, Beckermet, Cumbria
The interiors and decoration of the detached Victorian villa, which was granted Grade II listing, have survived virtually intact since they were created in 1900.
These include fixed drawing room seating with Art Nouveau glass panels, original light fittings and light switches, carved chimney pieces, servant bell pushes and much of the original stencilling to the hall and stairs.
Notable resident Thomas Tuohy CBE (1917-2008) worked in the nuclear industry at the nearby Windscale nuclear site (now known as Sellafield) and is recognised for bravely taking charge of efforts to extinguish a fire there in 1957 - averting nuclear disaster.
Related Internet Links
The BBC is not responsible for the content of external sites.