Banksy to be made honorary professor at University for the Creative Arts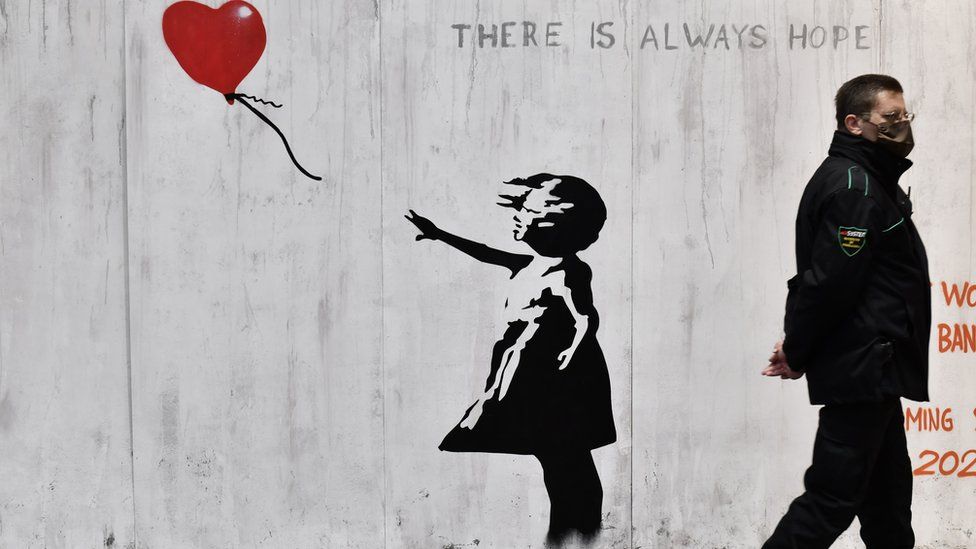 Street artist Banksy is to be made an honorary professor, a university has announced.
The University for the Creative Arts (UCA), which has campuses in Kent and Surrey, is recognising him for his "humanitarian efforts" and "the impact he has had on the global arts scene".
The award will take place at the Royal Festival Hall in London on 6 July.
UCA said Banksy will not be attending and the honour will be conferred on an empty chair.
Famed for his stencilling combining humour with graffiti, as well as his 2010 Academy award-nominated film Exit Through the Gift Shop, Banksy's identity has long remained a mystery.
Professor Terry Perk, UCA's assistant vice-chancellor, told BBC Radio Surrey: "Banksy has been overlooked in the past. He's a bit of an art world outsider in terms of the elite of the art world.
"But he's certainly impacted the art world and the general public's imagination, and we wanted to mark that at our university."
Prof Perk said UCA had contacted Banksy via his representatives, and he had "acknowledged our intention" to confer the award.
Professor Bashir Makhoul, UCA's president and vice-chancellor, said: "He is an example that UCA students can look up to, who uses his talents to disrupt the status quo, while challenging us all to confront some of the key issues of our time - war and peace, inequality - and art's role as a vehicle of social expression."
Banksy's representatives have been approached for comment.
Related Internet Links
The BBC is not responsible for the content of external sites.