Thames Valley Air Ambulance attends record number of callouts in 2022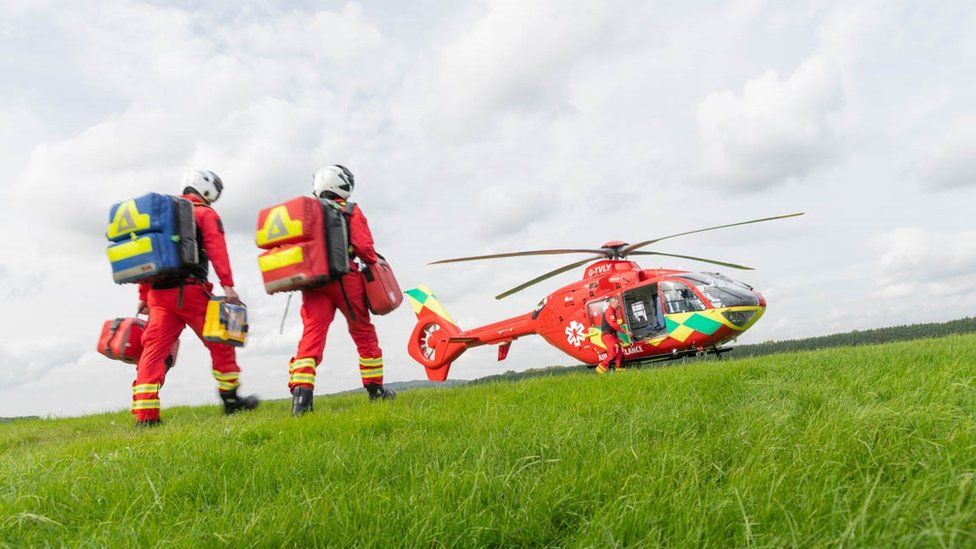 Thames Valley Air Ambulance has recorded its highest number of callouts since its creation.
The independent healthcare charity has released figures showing 2022 was its busiest year to date.
The service, which works across Berkshire, Oxfordshire and Buckinghamshire, saw 3,158 callouts in 2022 - 278 more than in 2021.
Chief operating officer Adam Panter said the record was "testament" to the crew and community.
He added: "2022 was incredibly busy for our crews for a number of reasons, including the impact of our communities returning to full and active lives.
"Answering 3,158 callouts is testament to their professionalism and the whole team at Thames Valley Air Ambulance supporting their lifesaving efforts."
Mr Panter explained the ambulance service was now working to identify the cases which most benefit from the air ambulance service and were dispatching its critical care teams to more of them.
They show critical care paramedics and doctors were called via the air ambulance service to 1,161 incidents in Berkshire, 1,086 in Buckinghamshire, 818 in Oxfordshire and 93 in the surrounding areas.
The service confirmed figures showed cardiac arrest remained the highest percentage of callouts for the year at 1,069, followed by medical emergencies at 663, accidental injury at 519 and road traffic collisions at 430.
Mr Panter said the busiest month was December, with crews called to attend 305 incidents, followed by 276 in November and 275 in June.
He added: "This simply couldn't happen without the community we serve. Without their generous donations of funds and volunteering time, we wouldn't be able to make the difference we do. Thank you."
Related Internet Links
The BBC is not responsible for the content of external sites.