New image released of Hertfordshire fatal crash suspect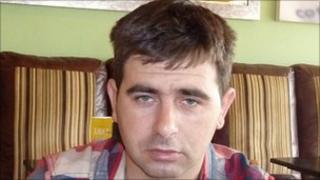 Police searching for a man after a crash in Hertfordshire in which a pedestrian died have released a new image of him and made two arrests.
Ricky Burlton, 20, from Enfield, died in the crash early on 4 June on the A10 exit slip road at Hoddesdon.
Police said the car was being driven by Albanian Georgios Tsoulos, of Woodlands Road, Hertford, but officers say this name was false.
Two men, both from Foxholes, Hertford, were questioned by police.
Elton Shyti, 28, and 21-year-old Bledar Shyti were subsequently charged with unrelated offences of using false indentification with intent to deceive.
Stitches across face
They have been remanded in custody and are due to appear at St Albans Crown Court in September.
The man who gave his hame as Mr Tsoulos is believed to have been driving a white Rover and is wanted for failing to stop at the scene of a collision.
He sustained distinctive injuries to his face, which were photographed while he received treatment at hospital.
He had stitches running from the bridge of his nose above and across his right eyebrow and smaller cuts, which also needed stitches, on his right cheekbone and right side of his nose.
Insp Paul Davis said: "Our enquiries into locating the man known as Georgious Tsoulos are ongoing and I would like to take this opportunity to reappeal for information of his whereabouts.
"We are hoping that by releasing this new picture someone will recognise him or it may jog the memory of someone who has seen him recently.
"I would also like to remind the public that it is likely he will still have scarring on his face due to the injuries he sustained during the incident."
Anyone with information on his whereabouts should call 999.