Tributes paid to Stevenage stabbing victim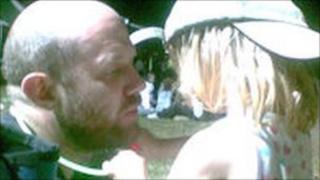 The family of a man who was fatally stabbed in Hertfordshire have described him as a "very friendly, likeable person".
Mark Butler, 32, of Burydale, Stevenage, died in hospital soon after receiving a single stab wound at a house in Bowcock Walk on 13 July.
He had a 23-year-old girlfriend, Erin, and a daughter, Georgina, 5.
Dwayne Parchment, 28, of Bowcock Road, has been charged with murder and remanded in custody.
Mr Butler was born in Hitchin and grew up in Burydale with his mother, Sandra.
He was a DJ at local clubs and raves and passed his skills on to young people at Bowes Lyon youth centre, his family said.
His mother, who lived with Mark and his daughter, said: "Mark knew so many people, he was a very friendly and likeable person.
"Since he died I have had so many people I never knew get in contact with me and say how sorry they are."
He had a number of jobs since leaving the town's Barnwell School, including at Dixons and Sainsbury's, but was unable to work after developing myalgic encephalopathy (ME) and fibromyalgia at the age of 20.