Cleaner spillage grounds Luton Airport holiday flight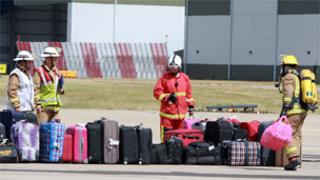 A security alert at Luton Airport has grounded a holiday flight to Faro in Portugal for six hours.
Spillage of cleaning fluid at the airport delayed the Monarch flight with 170 passengers on board.
Luggage belonging to a Polish passenger on another airline service leaked the substance that contaminated a bag on the Faro-bound aircraft.
Passengers for Faro boarded but the aircraft was isolated and check-in suspended until an inspection was made.
The aircraft was inspected, cleaned and took-off for Portugal at lunchtime.
Bedfordshire Police said a Polish man had been arrested for taking an illegal substance on board a plane.
He checked in his luggage and shortly afterwards a liquid was detected leaking out of his bag and on to luggage of fellow travellers.
Not terrorism related
A spokesman for the fire services said: "It smelt pretty strong and no-one knew what it was."
It was then that the man made himself known to the authorities and claimed he had packed high strength cleaning fluid in his bag.
Officers trained to deal in hazardous materials and wearing protective suits examined the fluid.
A spokesperson for the fire service said: "The man has told us that it is a cleaning fluid and we think that probably is the case, but it has been sent off for analysis."
The flight was grounded while hazardous materials experts checked other bags already on board the Monarch flight.