New flying challenge for record-breaking teenage sailor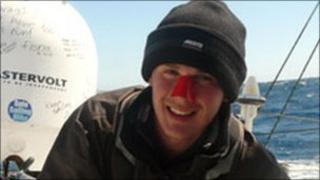 A teenager who became the youngest person to sail solo around the world is to attempt to become the youngest person to fly solo around the world.
Mike Perham, from Potters Bar, Hertfordshire, received a hero's welcome when he completed his sailing challenge last year.
The 18-year-old has begun an intensive training programme for this latest challenge, due to start next spring.
The three-month route will take him across 18 countries in 37 legs.
Mr Perham was 17 when he set the world record for the youngest person to circumnavigate the world solo with assistance when he crossed the finishing line between Lizard Point and the French island of Ushant.
'Really big adventure'
During the 30,000-mile voyage he battled gales and 50ft waves in a voyage which took him via Portugal, the Canaries, South Africa, Australia and New Zealand.
Mr Perham had to travel via the Panama Canal after missing the weather window to sail around Cape Horn at the southern tip of South America.
In 2007, at the age of 14, he also became the youngest person to sail across the Atlantic single-handed.
He said of his latest challenge: "I had heard a lot about flying and I thought 'wouldn't it be awesome to fly around the world'.
"For me it's a really big adventure, it's new for me, something I haven't done before and I'm really liking the whole new sense of adventure of it."
His father, Peter Perham, said it was "daunting" as a parent to see his son set off on another major adventure.
He said: "The difference between sailing and flying for me is that with sailing I have a lot of knowledge but for flying I have no knowledge.
"From a parental position, it's quite satisfying seeing him reaching for his goals but 'here we go again' has crossed my mind a few times."
He aims to challenge the current record holder, Barrington Irving from the USA, who flew solo around the world at the age of 23.