Man charged over Luton airport chemical alert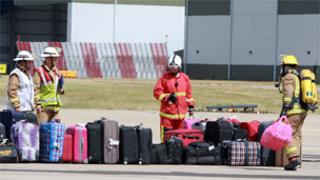 A 21-year-old man has been charged after a flight from Luton airport was delayed for six hours by a chemical scare.
Dariusz Tkaczyk, from Slough, is due to appear before Bedford Magistrates' Court charged with behaviour likely to endanger an aircraft.
He was arrested after cleaning fluid leaked from luggage on to a bag loaded on to the Portugal-bound aircraft.
The fire service were called as a major security alert was triggered on Friday.
The aircraft was isolated and check-in suspended while both were inspected and cleaned.
A man made himself known to the authorities and claimed he had packed high-strength cleaning fluid in his bag.
Officers trained to deal in hazardous materials and wearing protective suits examined the fluid.