Law student denies murdering father in Buckinghamshire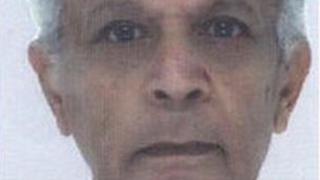 A law student has denied murdering his elderly father and burying him in the family garden in Buckinghamshire.
The corpse of 70-year-old Samuel Alexander was found by police at Drayton Parslow in February when neighbours reported him missing.
His son Mark, 22, had told his girlfriend and social services he was in regular contact with his father.
Prosecutor John Price told Reading Crown Court: "The Crown allege it was his son Mark who killed him."
Mr Alexander was highly ambitious for his son, a former pupil at Rugby School, and kept him away from other children while he was growing up, the court was told.
The Egyptian-born university lecturer saw no room for girlfriends and regularly boasted to neighbours about his son's studies, the court was told.
Mr Price said: "Mark Alexander disposed of his father's body and then started to lead the life that he wanted to lead."
The two lived together in Prospect Place while the son studied for a law and French degree at King's College, London.
Police alerted
The son was responsible for nursing his ill father who had his colon removed in May 2008.
Mr Price said the father was a "complex, and in many ways a very, very difficult man".
The son was to study at the Sorbonne in Paris but encountered problems with his father.
"He didn't want him on the campus. Rather, he wanted him as a guest of a family chosen by Samuel. Girlfriends were not welcome."
Mr Alexander continued to tell neighbours of his son's move to Paris, whereas the student had in fact privately made arrangements to return to London instead.
He moved to a flat in Fleet Street, central London, with girlfriend Senta Nazarbekova in September last year.
It is thought that his father, who was last seen on 31 August, was already dead by then.
In February this year neighbours alerted police, concerned they had not seen his father for several months.
Mark Alexander was arrested at his home days after his father was reported missing.
He denies murdering his father between 20 August last year and 5 February this year.
He also denies unlawfully disposing of his body and two charges of perverting the course of justice, by lying about his father's well-being and by dismembering his body and burying it in the garden.
The trial is expected to last up to six weeks.