Milton Keynes Council axes 5,000 free parking spaces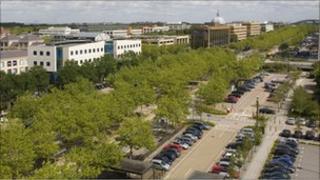 Almost 5,000 free car parking spaces in Milton Keynes are to be lost, generating an extra £2.2m in parking income for the local council.
The charges are expected to be introduced in January 2011, despite the majority of people consulted by Milton Keynes Council objecting to the plans.
The council said people working in central Milton Keynes would be entitled to discounted charges.
Those in car-sharing schemes would be able to park for free in some areas.
The council's cabinet has approved the withdrawal of free parking which means motorists will have to pay for all 22,000 parking spaces in the town.
The standard rate is 30p an hour and a council spokesman said it was still the best value for money in the region.
He said it was inevitable that the council would have to start charging.
Each car parking space costs £160 a year to maintain and the council estimates it spends a total of £3.5m annually on maintenance.
If the statutory consultation is completed satisfactorily, the charges will be introduced at the beginning of next year.