The funeral of a marine killed in Helmand takes place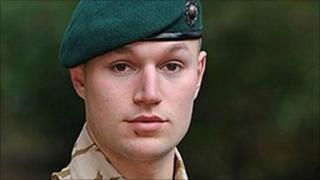 The funeral of a Royal Marine shot dead in Afghanistan a day before his 24th birthday has taken place in his home town in Hertfordshire.
Matthew Harrison, of 40 Commando, died in a military hospital in Camp Bastion on 13 July after being wounded on patrol in Helmand.
The funeral service was held at St John's Church in Boxmoor, Hemel Hempstead.
It was followed by a burial at Woodwells Cemetery.