Council approves Buncefield redevelopment plans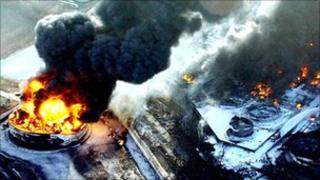 Proposals for the redevelopment of the Buncefield oil depot blast site in Hertfordshire have been approved.
The Hemel Hempstead site was the scene of an explosion which injured 43 people and left homes and businesses damaged in December 2005.
Oil company Total has already been granted permission to reintroduce fuel storage at the site.
St Albans District Council has now approved the development plans.
Total plans to reintroduce fuel storage and distribution at the site, including a road tanker loading area and an administration building.
The blast was the largest in Europe since the end of World War II.
Firms fined
The ignition of the vapour cloud, which followed the spillage of 300 tonnes of petrol, caused an explosion with a tremor, equivalent to a 2.4 magnitude earthquake.
Dacorum Borough Council earlier granted permission for the company to reinstate the oil tankers.
Last month, five firms were ordered to pay almost £10m in combined fines and costs for their parts in the explosion.
Total must pay £6.2m for failing to protect workers and the public.