Mother 'determined to care for daughter alone'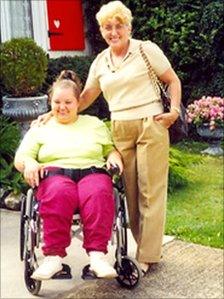 A mother who was found dead at home with the body of her disabled daughter was "determined" to care for her alone, her eldest daughter has said.
Stephania Wolf, 67, and Sam Wolf, 28, were discovered in Wheathampstead, Hertfordshire, on Saturday.
Her eldest daughter, who has not been named, said via police that Stephania was "committed" to Sam's care.
Hertfordshire County Council said they were known to adult care services but had refused the offer of help.
It is now looking into the case.
Tests suggested the pair did not sustain any external injuries but the full results of post-mortem examinations are not expected for several weeks.
Ms Wolf's eldest daughter, a married mother-of-two from Bedfordshire, said she did not blame care services in any way for what had happened.
"They did so much, including fitting ramps and making it easier for Samantha to get around the house.
"But the care services couldn't help any more than mum would let them."
Ms Wolf, a hairdresser, was born in Poland and lived there when she married and had her eldest daughter.
The couple separated and Ms Wolf moved to the UK after meeting her second husband, Sam's father.
Sam developed disabilities as a baby, including epilepsy and heart problems, and Ms Wolf and her husband later separated.
The daughter continued: "From the moment Sam was born, mum was committed to making her as healthy as possible.
"She lived for her and was determined to get her better.
"But I think as time went on she also become more and more determined to do this by herself, without help from anyone, family or care services.
"It's tragic because it didn't have to be like that if she was just willing to take that help."
She said her "wonderful" mum was "vibrant, hard-working and loved going out" and Sam was "great fun and very intelligent".
"Samantha and I had our little secrets as sisters that mum didn't know about and she was a real character.
"I will miss them both so much."
Police said Ms Wolf also left a brother in Germany and a sister in Poland.
Related Internet Links
The BBC is not responsible for the content of external sites.