Hertfordshire window cleaner's award for chasing gang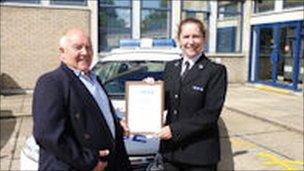 A window cleaner has received a bravery award from Hertfordshire police for tackling an armed gang who were breaking into a jewellery shop.
David Guest, 63, was cleaning windows next door to The Jewellery Workshop, High Road, Bushey Heath, in May 2010 when he confronted the three men.
He chased them despite being threatened with a sledge hammer.
Mr Guest has received a certificate of commendation for bravery for his "great courage".
Ch Supt Julia Wortley, of Hertfordshire Police, said: "Although we wouldn't encourage members of the public to confront offenders in every circumstance, especially if they have weapons, we are really appreciative of David's courageous intervention."
Ch Supt Wortley told Mr Guest: "You acted with great courage and as a result, you prevented these criminals from achieving their goal, which was obviously to steal jewellery and other valuable items.
"You stood up to three men who could easily have caused you harm, refused to back down when they threatened you and when they ran off, you persisted by trying to catch up with them."
The men abandoned the robbery and left empty-handed.
Mr Guest said: "I'm very honoured to be given this commendation.
"I acted instinctively and would do it all again without a second thought.
"It was only afterwards, I realised what could have happened. I couldn't just stand there and observe when they were so blatant."
Police continue to investigate the incident.
Related Internet Links
The BBC is not responsible for the content of external sites.