Parents of missing St Albans man offer £5,000 reward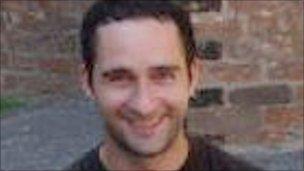 The parents of a St Albans man who police believe may have been murdered have offered a reward of up to £5,000 to find out what has happened to him.
Murray Thompson, 34, was last seen on 20 April. His work van was seen later in Watford and found abandoned in May.
Four men have been arrested on suspicion of murder and released on police bail.
Mr Thompson's parents, Geraldine Woodstock and Tony Thompson, said no news of him was a "living hell".
As well as the reward they have made a film appealing for help which has been posted on the Hertfordshire Constabulary's YouTube page.
The reward, offered through Crimestoppers, will be given to anyone who supplies information which leads to the whereabouts of Mr Thompson or which results in the conviction of anyone involved in his disappearance.
Ms Woodstock and Mr Thompson said: "We just want our son back. It has been too long and we need answers."
They said not knowing where he was or what had happened to him was heartbreaking.
"It is like a living hell, you wake up every morning and wonder whether it will be the day we will get the news we need, which is why we have decided to put up this reward.
"There is someone out there who knows what has happened to Murray.
"They may be trying to protect themselves or others close to them, but they are not helping the people who love him."
Related Internet Links
The BBC is not responsible for the content of external sites.