Soldier's name to go on Bletchley memorial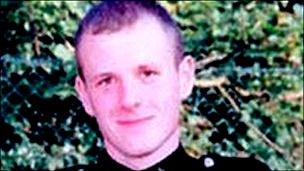 A British soldier killed in Afghanistan is to have his name engraved on a Buckinghamshire war memorial.
L/Cpl Ross Nicholls, 27, from the Household Cavalry Regiment, was killed in a vehicle ambush in Helmand province on 1 August 2006.
L/Cpl Nicholls came from Edinburgh but was due to leave the army and move to his wife's home town of Bletchley shortly before he died.
His name will be put on the memorial at St Mary's Church in Bletchley.
Work on the engraving is due to start on 1 September and expected to last about two weeks.
His widow, Angela Nicholls, asked Milton Keynes Council for the tribute as a mark of respect to her husband.
L/Cpl Nicholls was one of three men killed when a vehicle patrol was ambushed by militants.
He had volunteered to go on tour even though he was leaving the army the following February.
At the time Lieutenant Colonel Edward Smyth-Osbourne, commanding officer of the Household Cavalry Regiment, said L/Cpl Nicholls had taken to life with the Household Cavalry with "gusto and enthusiasm".
When he was killed L/Cpl Nicholls left behind a two-year-old son and a newborn baby girl.
Related Internet Links
The BBC is not responsible for the content of external sites.