Man arrested over coach crash on M40 in Buckinghamshire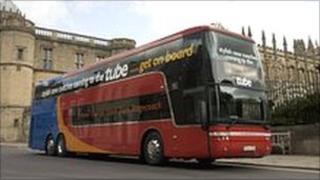 A man has been arrested after a double-decker coach ended up on its side up an embankment on the M40.
The Oxford Tube coach to London crashed at about 0200 BST on the southbound carriageway between junctions two and three in Buckinghamshire.
It is understood one of the 12 passengers on board tried to grab the wheel. No-one was seriously injured.
Shortly after the crash Thames Valley Police arrested a 21-year-old man nearby who had fled the scene.
He remains in custody.
Stagecoach said although nobody was seriously hurt, its 48-year driver suffered a shoulder injury.
In a statement the bus driver said: "I thought 'Oh my God. This is it.' I was struggling to keep the coach on the road and braking really hard.
"I saw the coach go up the banking and I could feel it was about to topple over.
"My right shoulder went through the side window and I was convinced I was going to get thrown out. I was absolutely petrified."
The driver said the passengers "were absolutely brilliant".
'Very calm' passengers
"There was no screaming or shouting... I was amazed everyone walked out of there. I still can't believe it", he said.
A statement from Stagecoach said: "We understand one passenger was taken to hospital as a precaution for a possible spinal injury, but is expected to be discharged later today.
"We would like to commend the driver for his brave actions in minimising what could have been a far more serious accident.
"Despite his injuries, he followed our procedures and made sure everyone was in a safe location outside the coach."
The company went on to say the "passengers remained very calm throughout the incident" and it had provided police with "on-board CCTV footage to assist their investigation".
Two lanes of the M40 were closed following the crash but have since re-opened.