Tribute to Milton Keynes fire death mother and daughter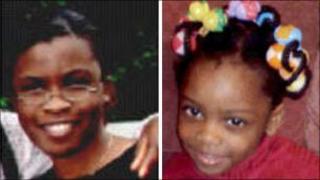 The family of a woman and her three-year-old daughter who died in a house fire in Milton Keynes have paid tribute to them.
The bodies of Bola Ejifunmilayo, 29, and Fiyin were found in the house in Fishermead on Monday.
The family said in a statement Mrs Ejifunmilayo was "affectionate with a joyful spirit" and Fiyin was looking forward to beginning school next week.
A woman from Corby, Northants, has been bailed on suspicion of arson.
"Bola had a pure mind and was a loving mother," the statement said.
"She had many friends within Milton Keynes, especially Fishermead, and was always willing to help others."
Her family described her as a devoted Christian who attended the Redeemed Christian Church of God and was part of its choir.
'Bubbly and intelligent'
They said she and Fiyin would be greatly missed by their family in the UK and in Nigeria, where Mrs Ejifunmilayo's husband and Fiyin's father, Muyiwa, lives.
"Fiyin was a lovely child, very bubbly and intelligent," the family added.
"She spent a lot of time with us and whenever she visited she made us all happy."
Mrs Ejifunmilayo wrote of her love for her daughter and God on the social networking site Facebook. An update on 1 May states: "I love Fiyin so much, she is the apple of my eye."
Five separate groups are believed to have been living at the house, which was not licensed for multiple occupancy.
Milton Keynes Council said an investigation in 2009 showed it was occupied by a single family.
One woman was rescued from the fire, which broke out in the early hours of Sunday morning.
A firefighter was injured trying to enter the bedroom in which the bodies of Mrs Ejifunmilayo and Fiyin were later found.