French lead in Hertfordshire 'cold case' death inquiry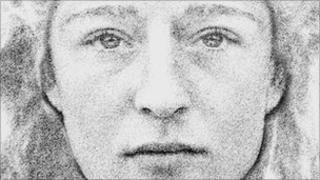 Detectives investigating the death of a woman found wearing an Afghan coat on a Hertfordshire road in 1975 have discovered she may have been French.
Hertfordshire Police's cold case team believe she was hit by a vehicle on the A1 on 18 February 1975.
She had no shoes on, no handbag or any form of identification.
Following an appeal in June a man identified her as Odile Ludic and the details have been passed on to the French authorities.
Hertfordshire Police are still appealing for information about the woman.
They released a sketch of her in June as part of a larger appeal for information on people who had died in "unusual circumstances".
Officers said a man had since told them he met Miss Ludic when she was hitch-hiking in Bedfordshire and studying at a language school in Cambridge.
She was between 23 and 25 years old and she told the man she was from north of Paris, or lived in the north part of Paris.
She also told him she had friends in Newquay, Cornwall, and would often hitch-hike to visit them.
It is not known whether the spelling of her name used by detectives is correct.
A police spokeswoman said: "At the moment the name is just a lead. We haven't tracked down the person.
"It's gone to Interpol but we're appealing to all police in France and anywhere to see if we can track down this person.
"The only way we can formally identify a person is by DNA."
It is thought she had left a vehicle in a hurry when she was hit as her feet indicated she had not walked very far.
Detectives are trying to trace relatives of Miss Ludic and are keen to hear from anyone who has any information about her.