Concern over traffic measures in Bedfordshire village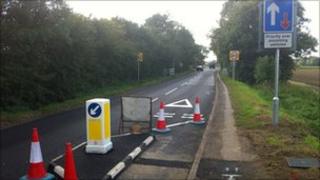 Residents in the Bedfordshire village of Greenfield have raised concerns over new traffic calming measures.
More than 60 points were raised against the measures, introduced two weeks ago, at a parish council meeting on Monday.
Resident Gail Hickman said: "Drivers race around the chicane, crossing the road is playing Russian roulette with lives, its seriously dangerous."
Flitton and Greenfield Parish Council said it was looking at the concerns.
Ray Foster, from the parish council, said the points raised at the meeting would be placed before the Highways Authority.
"The Highways Authority will be attending our meeting on 15 November at Greenfield Lower School from 1900 BST to give the public their reactions and inform them of any modifications, which they will be happy to carry out," he said.
Mrs Hickman, who lives in the village, said: "Two years previously, we got a survey, which asked if we wanted traffic calming measures, which we all said yes to but the introduction of a chicane has actually sped up traffic.
"Young drivers race up to them, we've had people meet in the middle, people having to back up and reverse, accompanied by lots of beeping and swearing throughout the night and a T-junction has been changed into a hideous blind bend on Pulloxhill Road.
"All our village children have to get to the bus stop by crossing the road where traffic previously stopped at the T-junction. Its a nightmare. It took my friend's daughter five attempts to cross the road the other day, you take your life into your own hands."
The portfolio holder for safer communities and healthier lifestyles at Central Bedfordshire Council, councillor David McVicar, said: "The measures put in place in Greenfield were done so at the request of Flitton and Greenfield Parish Council who funded the majority of the work.
"The consultation for this scheme was undertaken by the parish council, and the proposals received a positive response.
"We are aware that some residents have raised concerns and I would like to assure people that a full safety audit is scheduled to be carried out next month when these concerns will be examined."